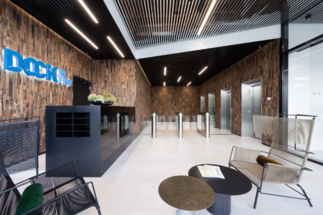 The award-winning DOCK IN FIVE building offers 21.5 thousand m2 of rentable high-standard office space and commercial space for restaurants and services on six floors. The style of the administrative building fully follows on from the previous stages, the author of the architectural design is the office Schindler Seko architekti. The building offers a large number of balconies and terraces with views of the marina and the quiet zone around the two blind branches of the Vltava. The building is located between the Libeňský most and the rest of the entire DOCK campus.
The commercial part of DOCK IN had a total of five phases. The offices have attracted a number of important companies such as Saint-Gobain, Dáme jídlo, BNP Paribas Cardif Pojišťovna, ASSA ABLOY, LEGO Trading, Publicis, Henkel or Hornbach. The DOCK project was built in several stages and offered a total of 120,000 m2 of commercial and residential space. The campus also includes a private yacht club with a marina, a park, restaurants, cafes and other services. The total cost of the project reached 7.5 billion crowns.
The renowned professional competition CIJ Awards is the longest-running commercial real estate event in the Czech Republic and has continuously evolved over the past 22 years to keep pace with changes in the local, regional and international real estate market. It is held in several countries of the Central and Eastern European region.