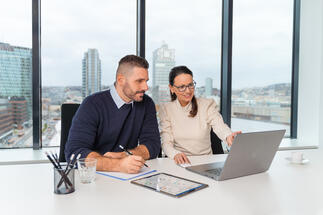 The new "Gantt View" feature enhances the existing PlanRadar platform with a visual display of key project phases. With a combination of a user-friendly interface and a clear display, it allows its users to create project schedules according to the standard, universally accepted Gantt chart. It is used in project management to graphically represent planned activities and their sequence in time. It is therefore an invaluable tool to keep a good overview of the work progress. In its basic form, it usually does not contain relationships between activities, but the modern software solution from PlanRadar offers it.
Unlike other similar tools, PlanRadar's "Gantt View" works within the existing "Ticket" functionality. It is completely intuitive and allows you to create, comment and share information about the building with other participants in the process in real time. In a place that requires the attention of others, an online note can be pinned in the digital construction diagram, or a task can be assigned to someone to complete. And that in the form of a voice recording, text or image. This way, everyone involved can see what needs to be done, who is in charge, and when it is due. However, the "Gantt View" combines these individual activities into an overall mosaic. It helps its users perfectly plan the entire project progress, build clear and concise graphs from existing to-do lists, mark key milestones and clarify what matters have priority. By contributing to the early identification of potential problems, it prevents delays and ensures that projects progress according to plan.
The new feature also ensures that any delays that may occur during construction can be easily flagged and highlighted for quick resolution. At the same time, if there are any changes in the project design, users can quickly drag and drop the entered comments within the tool "from place to place" and thus update the plan efficiently and easily according to the situation. This essentially means that project managers can track any spontaneous changes or development of the implementation in real time and nothing goes unnoticed.
Another major advantage is that the tool is compatible with a wide range of popular planning software. Users can thus import various documents, for example from Primavera P6, Microsoft Project or ASTA Powerproject, and work with them within the PlanRadar platform.
"The success of any project lies in the team's ability to stay on track and continuously improve. Nowhere is this more true than in the construction industry, where even the smallest mistake can lead to fatal consequences. A single project involves hundreds of workers, who are involved in it from the planning stage through construction to the handover of the finished building. This requires a comprehensive timeline as well as clearly defined responsibilities and authorities for all involved. Failure to achieve this risks delaying construction and increasing costs. Our new feature, focusing on efficient planning, is designed precisely to prevent such risks. It provides project managers with an intuitive tool to track project progress while overseeing the activities of their collaborators," comments Ibrahim Imam, co-founder and CEO of PlanRadar.
Sander Van de Rijdt, co-founder and CEO of PlanRadar, adds: "The construction sector is gradually digitizing, so it is essential that any new technology is accessible and user-friendly for all team members. A user-friendly interface was the basic requirement for this new function. The result is that virtually any real estate professional can work with our platform easily and quickly. The 'Gantt View' tool will continue to be improved along with other features we plan to announce in the near future. Our goal is to support the construction industry segment in its increasing efficiency, minimization of collisions and thus higher profitability."
The feature was launched soon after the introduction of the "PlanRadar Connect" integration solution, which allows users to seamlessly sync data with other applications without the need for complex coding. PlanRadar raised a total of $69 million from investors (in a Series B investment round) earlier this year for further expansion and technological advancement. It is gradually channeling the funds into a wide range of innovations, including a new technology center and a dedicated team to support its platform and its further development.
To learn more about PlanRadar's new scheduling feature and the broader platform, click here.