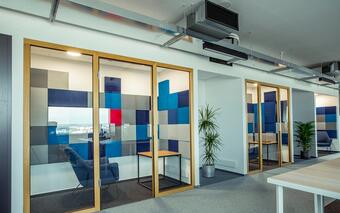 The new workplace is conceived as an open space, where individual separate meeting rooms and screens, which form an acoustic, divide teams. Employees can meet in a large community space, which includes dining tables and bar stools. From the 19th floor they can admire not only Špilberk Castle or Petrov Cathedral, but also in the distance you can see Pálava and the Moravian Karst.
"Our new premises are perfectly adapted to the requirements that the young generation expects in the labor market. Finally, we can give our people a quality environment to which they will be happy to return," says Petr Janošík, CEO of Smartlook.
The dominant feature of the new offices is the design tree, which is located in a large community room. "The unique element consists of spruce slats, which are attached to a concrete column. It is a tree that symbolizes the constant growth of the company. Name tags from conferences from all over the world are hung on its imaginary branches, which underlines the fact that the company is growing globally," describes the main symbol of the new premises, Martin Kameník, CEO of PREMIER interiors.
"It is also worth mentioning the meeting rooms with heraclite ceilings and glass partitions embedded in a solid wooden frame," adds Kameník, emphasizing the excellent acoustic properties of heraclite, which will be appreciated by all employees during long meetings.
Plenty of space and privacy
The new offices are spread over the entire 19th floor and occupy an area of ​​500 m2. The intention of the designers was to open the premises as much as possible within the possibilities of the building. They also did not forget the privacy provided by the two smaller meeting rooms. In the case of telephone calls or small meetings, there are also two closed and one open phonebox.
The architectural study was prepared in the period from January to April 2020. The actual realization of the interior then took place in June 2020. The project is backed by Ing. arch. Michal Štancl and Ing. arch. Andrea Pastrnek from the PREMIER interiors studio, which focuses on the design of offices, retail stores and family houses.
About Smartlook
Smartlook is a global SaaS startup originating in Brno, which helps companies of all sizes to understand user behavior on websites and mobile applications. Thanks to the connection of the recording system and analytical tools, it makes it possible to monitor what interactions take place on the part of visitors. This helps to get into the customer's skin and reveal mistakes that hinder successful sales. In the Czech Republic, Smartlook is used, for example, by Alza, O2, Dámejídlo.cz, Seznam.cz, or Home Credit. Globally, it ranks among the Top 5 among advanced analytical tools, with more than half a billion recordings each month.
Source:// Retrend