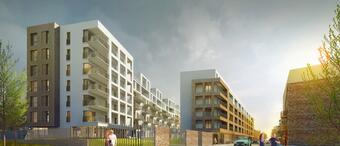 Żyj, mieszkaj i pracuj: tu!
Projekt jest wyjątkowym pomysłem nowej przestrzeni do życia w Warszawie. Przewiduje połączenie różnych funkcji: mieszkaniowej, usługowej, handlowej, biurowej, kulturalnej
i społecznej. Z jednej strony Bohema ma nawiązywać do otoczenia, w którym powstaje i ma być dla niego otwarta. Z drugiej ma uzupełniać o to, czego brakuje w okolicy,
czyli np. o nowoczesną powierzchnię biurową czy mieszkaniową.
Bohema to miejsce otwarte na miasto, zarówno w przenośni jak i dosłownie. Jest otwarte na miejski rytm życia przez całą dobę. Otwarte na miasto również przez swoją lokalizacje: świetnie skomunikowanie, położone bezpośrednio przy stacji metra Szwedzka, której otwarcie planowane jest na 2019, w tym samym czasie, w którym oddawany będzie I etap Bohemy. W sąsiedztwie znajdują się drogi, trasy wylotowe, tramwaje i autobusy. W pobliżu jest również Dworzec Wileński.
– Bohema to będzie szczególne miejsce – podkreśla Arie Koren, CEO OKAM Capital – Bohema to inwestycja, która wymyka się tradycyjnym klasyfikacjom: bo to nie tylko mieszkania, nie tylko powierzchnia handlowa i biurowa. To przestrzeń miejska, która oprócz pełnienia tych funkcji nawiązuje do tradycji miejskich placów, gdzie toczyło się życie społeczne. Jestem dumny, że OKAM jest inwestorem i pomysłodawcą tego projektu – dodaje Koren.
W pierwszym etapie powstaną budynki, w których znajdą się 303 mieszkania. Dwa kameralne
6-piętrowe budynki oraz jeden 4-piętrowy dadzą komfort mieszkania. Mieszkania będą liczyły od 27 do 135 m2. Nowe budynki architekturą zewnętrzną będą nawiązywać do istniejących budynków historycznych po dawnej fabryce Polleny dzięki dużym płaszczyznom z cegły. Na elewacjach pojawią się także stalowe elementy balustrad, które formą korespondują z elementami technicznymi zabudowy przemysłowej. W częściach wspólnych zostanie wykorzystana cegła rozbiórkowa z istniejących elementów zagospodarowania. Budowa rusza na przełomie roku 2017 i 2018 a zakończy się na przełomie trzeciego, czwartego kwartału 2019 roku.
– Wiele osób szuka miejsca do mieszkania, które będzie miało klimat. To pewne w Bohemie – mówi Marcin Michalec, Dyrektor Sprzedaży w OKAM – Mieszkania, dając komfort dzięki nowoczesnym rozwiązaniom architektonicznym, osadzone są głęboko w tradycji tego miejsca. Postindustrialna atmosfera zostanie utrzymana przez wykorzystanie cegły na elewacjach. Mieszkając w Bohemie można w pełni korzystać z miejskich udogodnień. A jeśli masz ochotę na wypad do centrum, to tylko kilka minut metrem… - podkreśla Michalec.
Na gości i najemców czekać będzie ponad 14500 m2 powierzchni komercyjnej. Niepowtarzalny klimat w postindustrialnym otoczeniu oraz nowoczesne udogodnienia
i wysoka jakość wykończenia to ważne atuty tego miejsca.
Centralnym punktem Bohemy jest plac z kominem. Plac jest przeznaczony na wydarzenia społeczne, kulturalne i artystyczne, a na jego ogólnodostępnej przestrzeni będą odbywać się koncerty, spektakle, kino, eventy itd.
- Teren wokół komina został pomyślany jako miejsce spotkań i relaksu. Komin ma szansę stać się praską "rotundą" – starsi warszawiacy pamiętają, że rotunda to było miejsce, w którym umawiali się wszyscy: na randki, spotkania z przyjaciółmi czy wspólne wyjście na zakupy – mówi Arie Koren, CEO OKAM Group.
Bohema to miejsce, które zagwarantuje swoim mieszkańcom, najemcom i gościom wszystkie niezbędne udogodnienia oraz moc atrakcji w zakresie kultury i rozrywki.
Nowoczesny wymiar historii
W industrialnych obiektach po dawnej fabryce Pollena oraz nowo wybudowanych budynkach wzrasta koncept urbanistyczny łączący historię z nowoczesnością. Projekt praskiej Bohemy został już nagrodzony w 2016 roku w prestiżowym konkursie Wienerberger Brick Award.
W uzasadnieniu wyróżnienia dla Bohemy podkreślono umiejętną kontynuację skali
i charakteru zabudowy historycznej Pragi oraz wykreowanie atrakcyjnej przestrzeni publicznej w otoczeniu nowej zabudowy mieszkalnej i reliktów zabudowy przemysłowej.
Projekt został przygotowany przez pracownię Grupa 5 Architekci, a część komercyjna znajdująca się wokół komina, obejmująca budynki Warzelni, Kotłowni i Glicerynowni przez pracownię SUD Architects.
Historia nabiera nowego życia w Bohemie. Rewitalizowane budynki zachowają swoje historyczne nazwy.
W Warzelni, Glicerynowni i Kotłowni, położonych najbliżej części mieszkaniowej oraz
w bezpośrednim sąsiedztwie komina miejsce znajdą usługi, restauracje, kawiarnie, browar, galerie, etc. Swoje miejsce znajdą tu również lokalni przedsiębiorcy, producenci
i rzemieślnicy. Remont tych budynków zostanie zrealizowany z końcem 2019 roku.
Sprzedażą części mieszkaniowej zajmuje się dział sprzedaży firmy OKAM. Sprzedażą
i wynajmem części komercyjnej zajmuje się firma OKAM, a wyłącznym agentem w zakresie wynajmu powierzchni komercyjnej jest firma CBRE. o miejsce, które zagwarantuje swoim mieszkańcom, najemcom i gościom wszystkie
Bohema – miejski wymiar:
4,3 h powierzchni przywróconej miastu 303 mieszkania w I etapie ponad 14500 metrów kwadratowych powierzchni komercyjnej na wynajem 9 zabytkowych budynków i komin 3 nowe budynki – etap I wejście bezpośrednio przy nowej stacji metra Szwedzka 11 minut tramwajem z Placu Bankowego