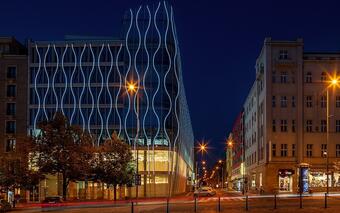 The new Wilsons headquarters will be located on the fourth floor of the building. Currently, there are fit-outs of the space, adapting it to the Czech team. Staff will have access to The Flow Building's spacious reception and common areas, including the Flow Zone Lounge and the building's rooftop terrace with stunning views.
Wilsons provides legal services in the areas of real estate, banking and finance, corporate law, dispute resolution, and more. They have branches in Prague and Bratislava and employ over 35 lawyers from the Czech Republic, Slovakia, and abroad. The company also represented the developer Flow East in the process of all lease negotiations in The Flow Building.
"We look forward to moving into our new premises," said Bryan Wilson, Wilsons partner.
"Thanks to the cooperation with Flow East in all lease negotiations, we were able to see how high the interest in this unique building is. Now we also share the enthusiasm common to all future tenants associated with moving into the building. Beauty, sustainability, and a healthy environment for our team - The Flow Building has it all."
"Wilsons is well acquainted with all the state-of-the-art features and benefits that The Flow Building provides to its tenants," says Petr Červený of Flow East.

Flow East - The Flow Building, exterior
"Thanks to the elegant modern design and sustainable elements, which were awarded the BREEAM accreditation at the highest level 'Outstanding', a truly exceptional building was created on Wenceslas Square. We can't wait to welcome the Wilsons and other tenants to their new address."
Source: // Retrend