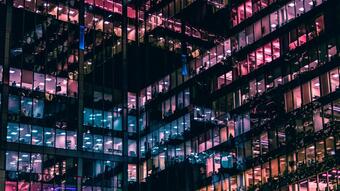 Investment volume growth rate by country
In 2022, Poland had a share of 55% of the total volumes in the region, followed by the Czech Republic with 16% and Romania with 12%. Bulgaria, Romania and Slovakia recorded a year-on-year increase in volumes, while in the Czech Republic, Hungary and Poland, as well as in many other markets in Europe, there was a slight slowdown.
Capital flows by sector
Commercial real estate in the CEE region was dominated by the office sector last year with 38% of transaction volumes. The retail and industrial sector followed with 27%, respectively. 26%. In these three sectors, 10 large single asset or portfolio transactions took place during the year, each exceeding €200 million and representing around 31% of investment volume in the region. Even in the Czech Republic, the largest share was represented by the office real estate segment (28%), supported by mixed-use real estate (17.5%), which is mainly represented by office buildings with retail elements. The second largest share was represented by retail real estate with 27% and in third place by industrial real estate with 24%.
Flows of capital according to its origin
Domestic capital was the most active in the CEE region last year with a 38% share of total volumes. These strong numbers are mainly driven by Czech (18.7%), Hungarian (7.6%) and Romanian (6.0%) capital. Western European (21.5%) and American (20.5%) capital followed. South African and, to a lesser extent, Middle Eastern capital was also more active, with a total share of approx. 12%. APAC (East Asia) investors, typically Chinese, Singaporean and South Korean capital, were very little active in 2022.
In the Czech Republic, even a full 74% of the investment capital came from the region of Central and Eastern Europe, mainly from Slovakia and the Czech Republic - the most significant contributors were the companies REICO and
365.invest. US-based investors accounted for 16%, while Western European investors contributed around 10%. Investors from the APAC region were recorded in only one case.
"Despite the overall lack of so-called prime transactions to measure new benchmarks, we have moved yields further up, in some markets by as much as 100 basis points compared to just 12 months ago. With the European Central Bank recently raising its key rate to 3.0%, total funding costs may now reach more than 5.0%. And since the main yields at the beginning of 2022 were at or below the level of the current higher cost of debt, the natural consequence will be a mismatch of expectations between buyers and sellers regarding prices for some time," comments Josefina Kurfürstová, analyst for the Czech Republic and the CEE region in Colliers, with the fact that in the Czech Republic, the reference values for prime yields for office buildings moved by 50 basis points to 5.00% and for industrial buildings by 25 basis points to 4.75%.
2023 with similar dynamics to 2022
There are still a number of opportunities across all market sectors in Central and Eastern Europe, and new ones will continue to emerge. However, market participants will have to adjust their strategies accordingly to changes in prices and interest rates. Colliers experts estimate that in 2023 investment volumes in CEE could reach between 7.0 and 10.0 billion euros. In the Czech Republic, the total volume of investments will most likely not exceed EUR 2 billion. Volume will likely again depend on domestic or regional CEE investors.