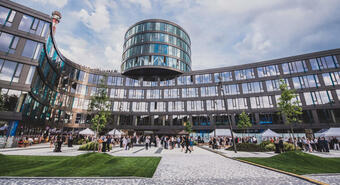 "We take great interest in Waltrovka from multinational investors as a valuation of our strategy for exceptional quality, architecture and public space. We want to maintain this high standard also for other projects. " Pavel Streblov, Penta's Director for Commercial Construction in the Czech Republic
The international competition announced by Penta RE last autumn, two companies from South Korea finished in the finals.
Mechanica
"We believe that a quality asset such as Waltrovka represents a solid return for us and its value will have growth potential. The Czech Republic is doing well, its economy has maintained a good growth rate. We are pleased to have won Waltrovka from Penta. " Yong Seok Choi, Head of Finance and Investment, Hanwha Investment & Securities
Penta was advised by Cushman & Wakefield to sell Waltrovka .
"The sale of Waltrovka is the largest transaction this year in the real estate segment in the Czech Republic. It is proof that Prague has the investment potential that enables global Asian capital to invest at a level comparable to larger European cities. " Jeff Alson, International Partner, Cushman and Wakefield
Walter
Between 2015 and 2018, the Aviatica, Mechanica I-II, Walter and Dynamica Penta building complex was gradually completed . All of the Big Five's buildings offer efficient space, modern design, high quality standards and unique architecture. It goes without saying that they use the latest trends in applied technologies with regard to environmental friendliness. Individual buildings received national and international awards, as did the entire Waltrovka project. Among the most significant are the CEE Quality Awards for the best development project in Central and Eastern Europe.
For a new owner, Penta RE will provide building management services on a temporary basis.
Penta acquired the former Walter factory in autumn 2012 by Red Group, an Irish developer. Over the next year, nearly 170,000 square meters will complete a new neighborhood with 700 housing units and family houses, a large park, civic amenities including a kindergarten. Waltrovka is followed by a project that prepares Penta RE along Radlická Street towards Prague. The multifunctional building will once again count on office buildings, which will separate the residential area with 400 residential units from the busy street just as it is the case with Waltrovka. After its completion, the last remains of the original large brownfield, delimited by metro stations Jinonická- Radlická, will disappear.
Aviatica
GLL manages global assets of EUR 7 billion, has been operating in Central and Eastern Europe since 2004. In the Czech Republic, it is represented by the Skoda Palace in Prague 1 and Andel Park B in Smichov.
Penta Real Estate belongs to the Penta Investments group, which entered the real estate sector in 2005. Since then, it has become a leader in the real estate market in the Czech Republic and Slovakia, and also operates in Poland. Penta Real Estate assets amount to EUR 1.1 billion, many of its 26 projects have received significant international awards .
Source / photo: www.retrend.cz / Penta Investments, sro (Penta Real Estate) / Title photo - Dynamica building