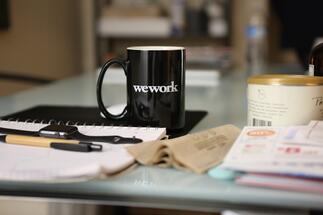 "We want to help companies provide a great experience for employees across all of their workspace, whether that's in a satellite office in a WeWork location or in a configured Powered by We headquarters," Fano says. With both offerings, a collection of architects, psychologists and anthropologists from WeWork's Fundamental Research and Workplace Strategy teams studies how people use WeWork spaces. The teams share their findings with WeWork's designers, who develop company-specific layouts that drive connections and collaboration.
"We measure things that may seem trivial, but they're actually fundamental to understanding how engaged and productive people are in a space," says Rachel Montana, who holds a doctorate in social psychology and helps lead the Fundamental Research team. "We want to know how often people use meeting rooms. Do they eat lunch in a common area? Have they made connections with people outside of their company?
Stairways, for instance, have typically been associated with functionality, not idea-sharing. But WeWork researchers discovered that people are significantly more likely to be friends with others on floors connected by internal stairways. "You can create opportunities for people to make new connections by simply helping them access their coworkers," Montana says.
In other research, the team learned that people tend to gravitate to flexible, communal areas that support a variety of activities. "People have many different needs throughout the day," Montana says. "You can help them feel more productive by making sure they have the ability to use different spaces."
In response to the findings, WeWork designed a multifunctional phone booth that can be easily moved to various parts of an office for private calls or small team meetings. "From the start, we've aimed to design spaces that can evolve alongside a business's needs," says Kirschner.
(source: NY Times)