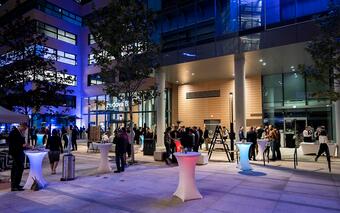 A rich program was prepared for visitors, especially from among tenants, including, for example, a tasting of selected AB-Imbev beers based in Building B, a flower workshop, a virtual reality from Avatar or a musical performance by Pavel Calta or the Tros Discotequos trio consisting of Jan Maxián, Jakub Prachař and Matěj. Ruppert. The event also introduced the concept of shared offices Fleksi, which will open in Building B in November and will offer interested parties modern coworking spaces for work and workshops or events.
"Building B was the last renovation that had to be completed so that in our portfolio we had only top offices equipped with the latest technologies that also meet the requirements for sustainability. Part of our philosophy is also to build a quality public space, so as part of the reconstruction, we also built an open atrium with wooden seating, greenery and a water feature and a new Ellen G. White Square with mature trees and a jet fountain. Our goal is to provide tenants with a quality background so that they feel comfortable with us during and outside working hours, "said Vladimír Klouda, Executive Director of Passerinvest Group.
The reconstruction of Building B is considered to be very successful even among the professional public, which has already awarded the building several awards. Building B won the category of reconstructed buildings in the prestigious CIJ Awards and HOF Awards competitions and also won first place in the Green Roof of the Year competition.