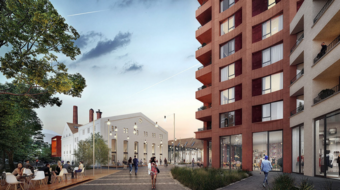 Only at the end of 2013 did the Penta investment group complete its first development project in the Czech Republic - the Florentinum office building near Masaryk Railway Station in Prague. Since then, it has become one of the largest domestic developers. In Jinonice, Prague, it built a new district for several billion in the area after the Walter factory, in Žižkov near the University of Economics the administrative complex Churchill and in Smíchov built the office building Smíchoff. He will soon embark on another major project. This means the reconstruction of the historic Nuselský Brewery complex for 2.3 billion CZK into a new district for about a thousand people. The company obtained a zoning decision for the project. "By the end of the year, we would like to obtain a building permit and start building at the beginning of the next year," describes Rudolf Vacek, development director at Penta Real Estate, in an interview with HN.
Penta wants to use the premises of the former brewery mainly for residential construction when it will offer the market up to 400 flats in the wider center of Prague. Atypical offices and retail spaces will also be built in the listed building of the brewery from the 17th century. In the future, the walls of the limited area will completely change its character and return to its historical roots, when it was the social center of the Nusle locality. The first studies of the area tentatively envisage the square, cafes, and restaurants, and the street that led across the entire complex is likely to be restored. According to Rudolf Vacek, director of development at Penta Real Estate (Penta division), the construction will take approximately two years.
About Rudolf Vacek (41)
A graduate of the Czech Technical University in Prague, before coming to Penta, he gained experience abroad, where, among other things, he participated in the preparation and construction of office and retail projects in London. He started at Penta as a consultant in 2010, today he is responsible for the complete preparation and construction of commercial and residential projects of the investment group in the Czech Republic. He belonged to a small group of managers who were responsible for Florentina projects at Masaryk Railway Station and the new Waltrovka district in Jinonice. In the foreseeable future, Vacek will also sign under the new business center of Prague near Masaryk Railway Station and is also behind the reconstruction of the Nuselský Brewery.
References:
Adam V8chal. Veřejný prostor může sloužit také jako kancelář. V Nuselském pivovaru se začne stavět již za rok, říká Vacek z Penty. E15.cz; Penta Real Estate