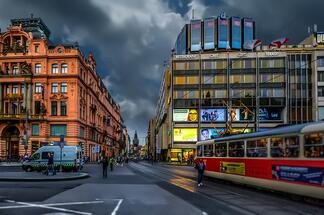 Interestingly, the price of this corner house has been developing in the last 10 years near the White Swan in the center of the Czech metropolis. In 2008, at the peak of the business cycle, the German company GLL Real Estate Partners bought it from another German investor for 80 million euros. Over the years, it has turned out that it was not so costly to buy. In 2014, GLL sold the property to Tristan for 51 million euros.
Prague City Center is more than 20 years old building. Tristan reconstructed it with the developer Portland Trust three years ago. Alongside the offices themselves, the modern face has a common area of ​​the house - main reception, entrances, elevator shafts and a retail passage. The building offers less than 18,000 square meters of office space and a 2000 m² shopping area.
"The building will be fully occupied, a long-term lease has been completed with large companies" commented on the transaction by Jean-Philippe Blangy, director and asset manager at Tristan Capital Partners.
Last summer, Tristan dominated the Avenir administration complex in Butovice, Prague, through one of its real estate funds. The company is looking for other similar investment opportunities in Prague. On the Czech real estate market, Tristan acts as a short-term investor in real estate.
Domestic office and business centers, as well as logistics centers, are sought after among foreign investors because they generate more interesting rental income than in Western Europe. Last year, the total volume of investment in commercial real estate in the Czech Republic reached 3.54 billion euros.