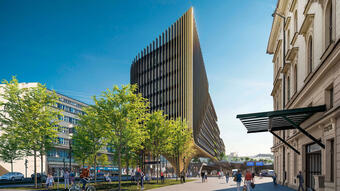 The transformation of the narrower center of Prague has begun
The investment company Penta has a building permit and started the construction of the project according to the design of the architect Zaha Hadid. It is supposed to be finished in the middle of 2023, but already now Penta is addressing tenants who will open their shops or offices next to Masaryk Railway Station.
Penta presents the entire project and free space to those interested in the new video, and the first tenants are already applying.
The last stamp raised interest
"The interest from potential tenants is really considerable, mainly due to the location of the project in the center of Prague and the availability of all types of public transport," said Michaela Panošová from Penta Real Estate. After the company obtained a building permit last week, interest increased even more.
"We started to initially address clients from our database who have historically shown interest in the project. In the second phase, we will address potential applicants from the entire office market. We are negotiating with several serious people interested in offices, and we are even with some before signing a binding document," adds Panošová.
Both buildings will offer a total of 23,000 square meters of offices, and there will be shops on the ground floor and first floors of both buildings.
Seven-storey hotel by the train station
Penta will not only build two buildings, but a hotel is also planned - at the intersection of Hybernská and Opletalova streets. It is to be completed in early 2024 and has a capacity of 382 rooms on seven floors. "The total gross area of ​​the hotel building is 13 thousand meters. Tenants are looking for the retail part of the project on the ground floor," adds Panošová, adding that more than a thousand square meters are set aside here for restaurants, cafes, shops, and services.
"In the past, we managed to fill the buildings before they were completed. We would like to succeed here as well," adds Panošová.
328 permits before it began
Penta acquired the land around Masaryk railway station ten years ago. The public saw the first plan to rebuild Prague's Masaryčka four years ago. Since then, permits have been held, debates with opponents of the project, conservationists and experts, discussions, and the collection of necessary confirmations. There have been a total of 328 of them since the beginning of the project, including the zoning decision - significantly more than is common for similarly large projects.
The opposition in Prague 1, the Czech National Committee of the International Council of Monuments and Settlements, the National Monuments Institute, and the Club for Old Prague opposed the project.
A special character from the project of the deceased architect will be given to the part in front of the Prague highway. An international architectural competition will be announced for the so-called "Karlín" part of the project.
Source:// Seznam zprávy