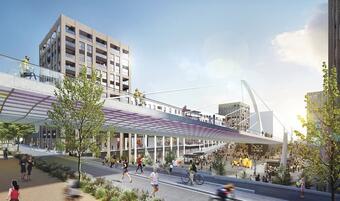 The winner is the Rohan Consortium, in June 2008 Prague announced the result of a tender for urban development, lease and subsequent purchase of lucrative urban land on Rohan Island. The consortium owned by Sekyra Group with a price offer of 1.68 billion crowns in the final defeated the Development of the Coastal Financial Group J&T and the company Avenzo Vice, which is now in liquidation.
A number of foreign developers operating on the Prague market at the time were also interested. The group of developer Luďek Sekyra had many large projects in Prague at that time, some of which they sold out during the financial crisis after 2008.
However, it did not get rid of the large development sites of the former railway stations in Smíchov and Žižkov, as well as the area on Rohan Island. However, the original plan to start construction between 2009 and 2010 has shifted by more than ten years. In 2018, the development of the area was consecrated by the City Council by approving an urban study from the Pavel Hnilička Architects studio.
More apartments, less sports
"The total volume of investment in Rohan City will probably exceed eighteen billion crowns," says Leoš Anderle, CEO of Sekyra Group. The company originally stated fifteen billion. What still applies is the emphasis on housing. However, residential construction has more than doubled from the original 1,200 to 1,300 flats. On the contrary, over time, the offer of leisure activities, which should have included green spas, swimming pools and winter skating, fell out of mind.
Sekyra Group has promised quality architecture since the beginning of preparations. Already in the first stage, residential and office buildings designed by the AI-Design studio of the architect Eva Jiřičná will be built. The second administrative building was designed by architect Jakub Cigler, another apartment block by the EBM studio.
The second stage of Rohan City, which will build on the existing River Gardens project on the west side, will be the work of several studios, the selection of which arose from an architectural workshop. The winner was the Schindler Seko studio, which is the main architect of this stage with three apartment blocks and office buildings.
The city is solved by the Rohan Bridge
It is to this stage that the planned bridge that connects Karlín with Holešovice is to open. The architects have already included the Rohan Bridge in their designs, and some even count it as a dominant feature. Schindler Seko architects conceived the bridge for car and tram transport, which will lead to the extension of Urxova Street as an opportunity for the creation of a boulevard perpendicular to the Rohanské nábřeží artery.