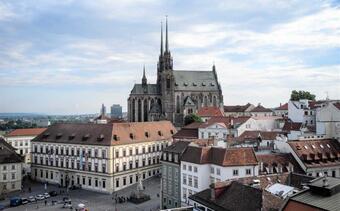 The number of companies looking for a quieter but dynamic location or expanding into regions is growing. Therefore, Brno, Ostrava and other regional cities such as Pilsen, Olomouc and Liberec are gaining in attractiveness. "Brno and Ostrava should not be seen as a second option. These cities are growing and developing and improving both transport infrastructure and civic amenities and the natural and urban landscape, which attracts skilled workers from here and abroad, "explains Jan Skalický, Office Associate at Colliers, and continues:" I When we saw a slight increase in demand for office space in Prague and Brno in 2021, it was still a reverberation of stagnation caused mainly by the coronavirus-related situation, with many companies waiting or postponing their decisions. In any case, the year 2022 looks better and we are already seeing interest in office space, especially in Brno, after the first quarter. "In the future, it predicts the growing importance of other regional cities as well.
The office market in the regions is growing, vacancy will decline
In the last few years, the Brno office market has expanded rapidly, growing by approximately 4-5% per year and totaling 637,900 m2. Increased activity is also taking place in other larger cities in the Czech Republic, where a modern office fund usually represents a volume of between 30,000 and 100,000 m2, the markets in Olomouc, Hradec Králové and Pilsen are approaching the upper limit of this range. On the other hand, the Ostrava office market has been stagnant for a long time and has stopped at approximately 219,100 m2.
With increasing annual gross demand, it can also be expected that the vacancy rate will gradually start to decline. This is currently the highest in Brno, where it was 11.8% at the end of last year. In Prague, this figure is 7.8% and in Ostrava even 5.8%, which indicates that the market currently favors landlords. The largest transaction last year in Brno was the approximately 5,000 m2 renegotiation of PPG Industries Czech Republic in the Spielberk Office Center. In Ostrava, it was announced a pre-lease of Tieto in Organica with a total size of 15,500 m2.
Lower rents compared to Prague
Compared to the capital, the rent for offices in Brno and Ostrava is significantly lower. While in the best locations in Prague it reaches up to 24 euros per m2 per month, in Brno it currently amounts to 16 euros per m2 per month for first-class premises, and in Ostrava approximately 13 euros per m2 per month. "As in Prague, we expect an increase in prices in both of these cities, especially for new projects. The main reason is the difficult predictability of prices of construction and consumables and labor, "says Jan Skalický, adding that price increases can be expected in other regional cities.
Outlook to 2022
Brno, Ostrava and other regional cities offer a great opportunity for both local developers and tenants. "Although the vacancy rate in Brno is expected to increase further, theoretically up to 15%, we also assume that the market will be able to absorb a large part of the newly delivered space 6 to 12 months after completion," adds Jan Skalický. Due to the fact that another 66,600 m2 is planned to be completed in Brno in the years 2022-2024, a stable offer of new offices can be expected. The outlook is good in other regions as well. In addition to the construction of new offices, it can be expected that, together with the growing importance of ESG-related reporting for large companies, many older property owners could undertake renovations of older properties, which would lead to further growth in the modern office space market.