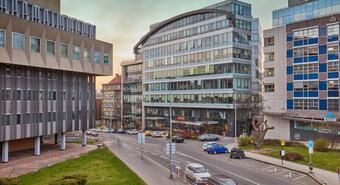 For the realization of the project myhive Flexi Offices were selected fully equipped offices on the first floor of an office building myhive Pankrác House, owned by the Austrian company IMMOFINANZ and is situated directly opposite the metro station of the Prague uprising. This makes it easily accessible both from the city center and from the D1 motorway exit. The complex has a restaurant, a spacious lobby with a 24-hour café and a reception, a garage, a bicycle room, showers and an exercise room.
myhive - smalloffice
More about myhive Flexi Offices
The space of 1547 m2 offers 36 equipped offices from 11 to 50 m2 and coworking of 160 m2. Those who need their own space can choose from two types of offices - daily and private . Directly on the first floor, there are 2 meeting rooms, a meeting room for clients, and a larger conference area on the ground floor. Office facilities include a reception, two kitchens and bathroom facilities. In addition, the interiors are livened up by paintings created by the famous Czech painter and sculptor Petr Písařík for the myhive Flexi Offices.
myhive
The main advantage of myhive Flexi Offices is flexibility in disposition and lease time . Candidates can choose the office they need for their work without being bound by a fixed-term contract.
Source / photo: www.retrend.cz / Svoboda & Williams sro / www.myhiveflexi.cz