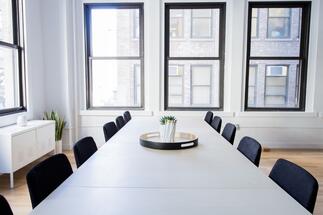 The office market is changing, albeit not as dramatically as originally expected, due to the coronavirus crisis. Offices definitely do not end and work from home is not becoming a permanent standard, its limits and the irreplaceability of personal contact have been confirmed. Therefore, a hybrid model combining office and home work will be more common. That's according to a study by consulting firm Cushman & Wakefield.
However, demand for office space is still below pre-crisis levels, but market activity has been growing recently. Not yet enough to justify the rise in rental prices that would be needed due to the rise in prices of building materials, but both can be expected to grow in the future. The crisis has slowed down the construction of some projects, and a more significant increase in new office space can be expected in 2023 at the earliest. In the coming years, demand could thus exceed supply and thus increase rents.
Least new projects in five years
Contrary to some assumptions, the coronavirus crisis did not cause the end of offices; work is not permanently moved home, to cafes or coworking centers. However, uncertainty about their future at the beginning of the crisis, which brought with it a mass transfer of employees to the home office, affected the construction activity of developers. They suspended the planned projects and waited until it became clear what volume of office space would be best delivered to the market and when. The construction was not affected by the lack of staff or the caution of banks in providing loans. The consequences of the suspension of construction can be seen already this year, when the least new office meters have been delivered to the market since 2016. While this volume is around 150,000 m2 on average, this year it will be about half (approximately 70,000 m2 of new space).
"There will be no more new projects on the office market next year than this year. Although developers are already convinced that offices are still needed, the implementation of projects takes time. Optimism is returning and several relatively large projects have already begun to build, but are not expected to be completed until 2023, "says Radka Novak, international partner, Cushman & Wakefield, office leasing team leader for Central and Eastern Europe.
More expensive construction - higher rents?
Developers' plans have also been complicated by rising construction costs and labor shortages. With the current rise in the price of building materials, they have to repeatedly overestimate their projects and, in order to make a profit, they have to start counting on higher rents than today's standard - in this third quarter, the highest achievable rent was 22 euros per square meter and month. However, rent growth is not currently being driven by low demand - which is still well below pre-crisis levels. Although net demand has been rising steadily for the fifth consecutive quarter - by 17% in the third quarter compared with the previous quarter - it is not yet strong enough to justify the necessary increase in rents for developers. In addition, the tenant will receive an increase in service charges due to rising energy prices. It is likely that they will prefer more economical, "greener" buildings to older, more energy-intensive ones.
Compared to other metropolises, Prague differs the least from pre-crisis standards, people still go to offices, source: Shutterstock
There is no significant reduction in offices
Companies are not getting rid of "surplus" meters as much as expected in the early stages of the crisis. The initial enthusiasm of companies that it is possible to work just as efficiently from home has been replaced by a certain sobriety in terms of work productivity, motivation, cooperation and sharing of experience. All this decreases when personal contacts are impossible, so companies want to keep the opportunity to work and meet in offices. The fact that it can usually only be meaningfully implemented by the end of the rental cycle does not contribute to the drastic reduction of office space.
In the Czech Republic, the ongoing return to offices during the autumn was evident: at the beginning of November, Google Mobility Report data on the movement of people in administrative centers showed that Prague differs the least from pre-crisis standards compared to other metropolises. While in London mobility was still 37% below early 2020, in Amsterdam by 30%, in Warsaw by 26% and in Berlin by 24%, in Prague, the difference was only 15% below previously usual values.
The desire of Czechs to work in the office more often can also be explained by the fact that in the period before the coronavirus crisis, the model of working from home was much less widespread in our country than in other European countries. According to Eurostat, while in Finland and the Netherlands more than 14% of employees worked from home in 2019, in the Czech Republic it was 4.6%.
Although some companies would welcome having their employees fully back in the offices, it is definitely not possible to return to the original model of almost one hundred percent presence in the workplace. Most often, companies lean towards the so-called hybrid regime, where employees work part of the week in the office and part from home or elsewhere.