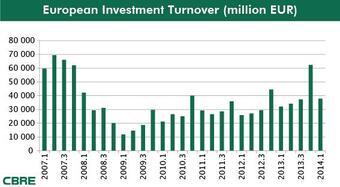 Total commercial real estate investment in Europe reached €37.9 billion in Q1 2014 - a 18% increase on Q1 2013. The fastest year-on-year growth in Q1 2014 was seen in Austria (+183%), Ireland (+179%), Spain (+132%) and Finland (+103%).
"As we said at our Annual Investment Breakfast lately, a broad range of investors are active in Europe at the moment, with the strongest activity in the value-add end of the market. – commented Tim O'Sullivan, Head of Capital Markets at CBRE Hungary. "Opportunistic investors, particularly from the US, are targeting markets such as Spain and Ireland on the back of economic recovery and to take advantage of potential future yield compression. North American investors accounted for almost half of Spain's total commercial real estate investment in 2013, while last year was the first time that we have seen significant activity by Americans in the Irish real estate market. This trend has continued into 2014, with Spain also seeing significant acquisitions by buyers from China and the Middle East."
Commercial real estate investment activity in Central & Eastern Europe (CEE) dropped 35% on the same quarter last year, driven by a significant decrease in Russia, which recorded its lowest quarter since Q1 2012. The other key market, Poland (+41%) showed significant growth compared to Q1 2013. Hungarian investment volume totalled to EUR 52 million - which is so far considerably less than the same period last year. Based on the estimated pipeline, O'Sullivan expects to exceed the EUR 250 million already in H1. As a comparison, last year's total turnover was EUR 272 million.
"The appetite for investment in CEE continues and although Q1 2014 volumes in some countries may depict a slowdown, the year is likely to be up overall." – Mike Atwell, Head of Capital Markets CEE, CBRE added. "The drop in y-o-y activity in Russia coincides with increasing tensions in Ukraine; however, this is not the driver of the slowdown primarily - Q1 2013 was extremely active and driven by a small amount of large transactions. Russian investor appetite is expected to keep volumes high during 2014. In countries such as Czech Republic, Hungary and Romania we are seeing increased activity and new interest from investors who are looking more favourably on these markets than previously was the case."
Source : kancelareinfo.cz