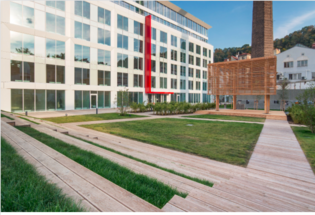 Skanska has received another WELL Health & Safety Rating certificate. Her Parkview project in Prague won this award in 2021 as the first building in the Czech Republic. The purpose of the certification is to enable tenants to return safely to the premises in a post-covid environment. Only the most innovative and safest workspaces have a chance to receive the award that Skanska has received.
"In all our buildings, we place great emphasis on the health and well-being of our users. The fact that our Corso Court office was able to obtain the WELL Health & Safety Rating seven years after completion testifies to our hard work and progressive approach long before the covid, "says Eva Nykodymová, EHS and Sustainability Manager at Skanska.
Skanska's office provides a healthy workspace thanks to a sophisticated air ventilation system, plenty of natural daylight, reduced contact with people in common areas and innovative solutions integrated into the design. The certification process consisted of an assessment of the entire Corso Court building, which provides a safe and non-smoking environment and was also awarded the LEED Platinum rating, the highest achievable Core & Shell rating for low environmental impact.
Skanska has already received a WELL Health & Safety Rating for eight of its commercial buildings in Central and Eastern Europe, including Parkview in the Pankrác business district in Prague, and currently aims to achieve WELL Health & Safety Rating for all its future projects. As part of the Care For Life office concept, Skanska aims to create sustainable buildings with the health, safety and well-being of its tenants in mind.