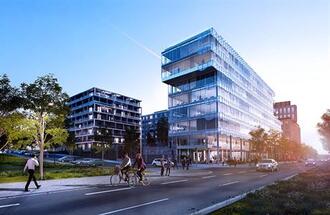 The construction is divided into five stages. "200 apartments will be built in the first one, they will be in towers designed by Eva Jiřičná," said Sekyra. He adds that the apartments are already for sale. Their prices start at about 4.7 million crowns. Construction work will also begin on two administrative buildings this year, one of which is to house the new headquarters of the Sekyra Group.
A kilometer-long promenade on the river bank will be created in Rohan. "It will be a key public element that connects the two parks. In our projects, we emphasize public space, because in my opinion it is the most valuable thing we can offer the city," says Sekyra. And points to the company's third major project, Zizkov City. The historic freight station building will be preserved there.
"We are working to create a joint venture with the city. That would have the task of revitalizing this object. It is a huge building, which is close in size to Prague Castle and should primarily have a public function," says the developer. It is said that the National Film Archive, the Academy of Sciences and municipal institutions are interested.
The well-known Danish urban planner Jan Gehl was significantly involved in the preparation of Rohan City. "We discussed with him that the city should serve people more than cars, it must be a city for people," says Sekyra, adding: "It is very important to subordinate the city to man. We want a city of short distances. We forget that a lot of things should be within walking distance.
" There will be, among other things, a school in Smíchov and Rohan. "People who live there can also work there and will be able to bring children to school. That is a rarity today, " says Sekyra.
The cost of building the first stage of Rohan City is estimated at about two billion Czech Crowns. The whole project should cost 17 billion. It should be completely completed in ten to 12 years. Up to 11,000 people will find housing and work there.
Source: // Lidovky