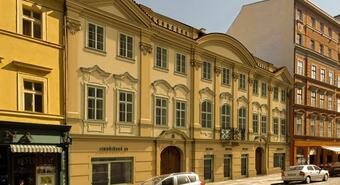 The complex offers approximately 3,000 square meters of lettable space consisting of retail units on the ground floor, two floors of office space, eight top-floor apartments and a modern parking system. To date, the building is fully leased.
The Harrachov Palace , a UNESCO World Heritage Site, combines a newly reconstructed historic building with a modern courtyard extension . Extensive reconstruction began in February 2015. The complex is located in Jindřišská Street in Prague 1 close to Wenceslas Square and has excellent access by both public transport and car.
Viktor Simecek, Managing Director of HERITAGE REAL ESTATES , says: "We greatly appreciate working with Savills, whose expertise and targeted approach are in line with our ethos."
Petr Machula, Head of Savills Property Management for the Czech and Slovak Republics , commented: "We are delighted to establish cooperation with HERITAGE REAL ESTATES and entrust us with the management of such a large complex in a premium location as Harrachov Palace. Our goal is to provide our clients with services ensuring the gradual growth of net income and appreciation of their property. "
In this area, Harrachov Palace is the second project managed by Savills, which manages an office building owned by IMMOFINANZ on the same street with a rentable area of ​​approximately 6,600 square meters.
Czech property developer HERITAGE REAL ESTATES owns a portfolio of residential and commercial properties. To date, it owns and manages seven buildings in the centers of Czech and Moravian cities.
Source / photo: www.retrend.cz / BEST Mediální společnost, sro