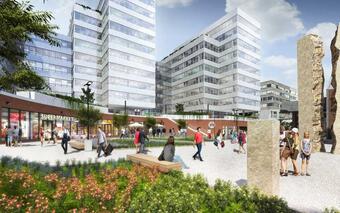 Prague — The standard of office buildings is improving, with a growth in the demand for quality office space in city centers in particular, and landlords are currently offering very good leasing conditions, real estate services firm CBRE said.
Prague offers the second cheapest leases in the CEE region, with 330,500 square meters of new office space becoming available during the next two years due to new development projects. According to CBRE this period is very favorable for companies considering moving to new office space.
The Prague office space market is also highly competitive due to the volume of speculative development expected to be completed in the course of 2014 and 2015.
"The current vacancy rate amounts to 14 percent (Q3 2014) and represents approximately 416,100 sqm of available space. By the end of 2015, the vacancy rate is expected to reach the level of 16 percent and on-going downward pressure on the highest rents is assumed as well. The currently available office space in Prague is relatively high – 2.9 million sqm," says Katarina Wojtusiak, head of Office Agency at CBRE.
Compared to the other large cities in the CEE region, Prague offers relatively low prices of leases, second only to Slovakia, according to CBRE's figures. Currently, the most expensive leases of office space are found in Warsaw and Vienna. As far as the remaining parameters (vacancy rate, new development) are concerned, Prague is comparable to other large cities in the CEE region.
"If companies are considering a change in their office spaces, this is the right time," says Katarina Wojtusiak.
Prague has seen the ongoing development of interesting projects, such as Enterprise Office Center, Green Line and Delta in Prague 4, Aviatica and Metronom in Prague 5 and Corso Court in Prague 8, CBRE states.  Some of the projects are unique due to their architectural concept, such as River City with the Danube House building and Amazon Court. The Park and City West are examples of conceptually interesting and commercially successful projects, according to CBRE.
Class A office buildings currently form approximately 69 percent of the total quantity of buildings available. They are usually buildings equipped with suspended ceilings, raised floors, heating and cooling systems, magnetic card entry systems and a sufficient number of parking places, with the best ones having green certification as well.
CBRE Group is the world's largest commercial real estate services and investment firm (in terms of 2013 revenue). In the Czech Republic CBRE have nearly 350 employees. In the Czech Republic CBRE manages nearly 200 commercial premises with a total area nearly 1.2 million sqm.
Source: Praguepost.com