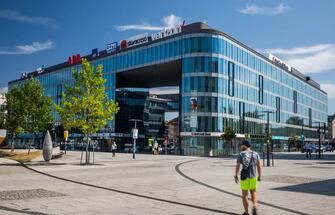 Brose CZ is the largest production site of the Brose group, focusing production on seat structures, electric motors and drives, as well as side and rear door locks. The Czech branch holds the status of a so-called "lead plant" within the Brose Group. Pilot projects are being prepared and implemented here, which are then implemented in other locations.
Brose CZ is thus a significant and stable employer in the Moravian-Silesian and Zlín regions, and currently employs more than 3,000 employees. Brose CZ also has several departments of so-called central functions. These include controlling, finance, purchasing or IT - these departments provide support to all Brose Group plants around the world. A shared services center will be established in the newly emerging offices in the Nová Karolina Park project in Ostrava, where approximately 200 employees will work in the mentioned areas.

About the Nová Karolína Park project
The Nová Karolina Park office building is sensitively located in the newly urbanized area of ​​Ostrava near Masaryk Square and forms an imaginary entrance gate away from the historic city center. The developer of the project is a joint venture of PASSERINVEST GROUP and GEMO OLOMOUC. The architectural design of the project came from the workshop of CMC architectsby the authors Vít Másl and David R. Chisholm.
The entire project covers 32 hectares of space on six floors and offers almost 24,600 m2 of first-class office space. These are complemented on the ground floor by 3,700 m2 of areas suitable for shops, services and gastronomy. In the basement there are 279 parking spaces for users of the building. Nová Karolina Park is certified as a green building according to BREEAM (BRE Environmental Assessment Method). The British BREEAM certificate belongs to the prestigious methodologies of certification of green buildings in Europe.
About Passerinvest Group
Passerinvest Group, a. S., Is a purely Czech investment and development company founded and managed by Radim Passer. Passerinvest Group considers it its social responsibility to act as a professional as well as a social authority both in the role of a long-term partner of the city with the aim of transforming often unhappy territory into a pleasant and user-friendly location. Czech Republic through traffic initiation or education in the field of health and human values. As a responsible urban developer, Passerinvest Group has been associated since 1998 mainly with the BB Center in Prague 4, which is one of the largest and most successful urban projects not only in the Czech Republic, but in the whole of Europe.

Source:// Retrend