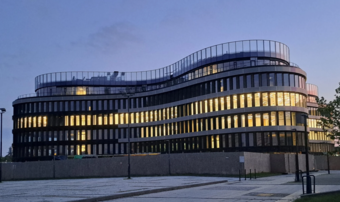 The latest addition to the Nová Karolina neighborhood is the currently completed Organica office building adjacent to the shopping center, scheduled to open in October. The investor of the building for 1.5 billion is the Czech development company Contera, owned by Tomáš Jirků and Dušan Kastl. It will create over twenty-five thousand square meters of office and retail space.
The Prague studio Schindler Seko architects is behind the design. "It is a unique solitaire, which creates an interesting contrast to the neighboring historic building of the Triplex and, with its organic shapes, the strictly rectangular building of the shopping center," describes Contera's project director Martin Budina.
According to him, the project on the Ostrava market, where no premium office building has been built for a long time, is exceptional, for example, in terms of energy-saving and smart technologies.
Organica has a photovoltaic power plant on the roof, air distribution will be ensured by an intelligent air-conditioning system, rainwater from retention tanks will be used to water the greenery, and users will have a mobile application connecting them to the building's operations.
According to Budina, there was a hole in the market in the area of premium administrative real estate in Ostrava - that's why there was a lot of interest in renting space in Organica.
"We have over eighty percent occupancy of the building, which is above standard," he boasts. The main tenant will be the IT company TietoEvry, which is the largest supplier of IT services in Northern Europe and employs 2,700 people in the Czech Republic.
The building also houses the Finnish company Stora Enso, which focuses on the production of renewable materials. "In retail, we will welcome the local coffee chain Cokafe, catering services will be provided by Kanteen, and the next tenant will be, for example, Individual.Fitness," adds Budina.
The portfolio of the development company Contera mainly includes industrial parks that are rented by companies from the fields of logistics, e-commerce and production. Gradually, however, the company begins to focus on administrative buildings and also has a residential district in preparation.
All completed industrial buildings are co-owned within the fund with the American company TPG, in total today they are about 520 thousand square meters. "We have another two hundred thousand square meters in preparation. The total value of the portfolio reaches six hundred and twenty million euros," Contera's project director concludes.