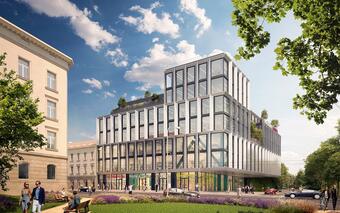 "All divisions of the JRD Group have autonomous management and economics. However, they are united by the basic idea that the way to a sustainable future is a combination of modern technologies, clean energy, an ecological approach and reducing the energy intensity of buildings. That is why we will always build only projects that are environmentally friendly and beneficial to human health. Likewise, we will only invest in renewable energy sources and environmentally friendly waste disposal. We are convinced that only sustainable development can have a really positive benefit for society and nature, "says Jan Řežáb, owner and founder of the JRD Group, and states:" The largest division of the JRD Group is currently JRD Development, which has projects in preparation with approximately 2,200 apartments, meeting all the parameters of healthy and sustainable construction. But we also have big plans with other companies associated in the group, with which we would like to expand not only within the Czech Republic, but also abroad. If we keep the pace, we could at least triple our total sales within three years.
JRD Development: construction of healthy and ecological housing
JRD Development, founded in 2003, has already implemented 24 energy-efficient development projects and its current portfolio consists of 6 Prague projects (Na hvězdárna Třebešín, Green Port Strašnice, Rezidence Michelangelova, Bohdalecké kvarteto, Císařská vinice and Vital Kamýk) with 597 apartments. These are complemented by the Touškovský háj residential complex outside Prague with 94 building plots and the Silver Port Residence with 70 flats, which the developer is selling for the investor Rezidence Na Palouku. In addition, JRD Development has entered this year (through the Viadukt Anděl office building) into the commercial real estate segment, which it plans to continue to focus on in its multifunctional projects in the future. "It simply came to our notice then. In addition to the preparation of housing projects (in Prague 4, 5, 7, 9, 12 and 15), we focus on large-scale acquisitions of building plots and larger territorial units. We are also going to enter other areas of development, such as recreational real estate. Gradually, we would like to be among the three largest developers with a turnover of CZK 3 billion, "says Jan Řežáb, whose company works closely with the University Center for Energy Efficient Buildings CTU in Prague (UCEEB) and other professional organizations (Passive House Center, Czech Republic). Green Building Council, the Association of Developers and the Association for the Development of the Real Estate Market). In addition, last year it published a Call for Healthy Living for those interested in companies and individuals who also perceive the importance of building healthy and energy-efficient buildings.

JRD Plasma: efficient and environmentally friendly waste treatment
The JRD Plasma division is represented by Millenium Technologies, which focuses on plasma gasification and waste vitrification. The product of this efficient, environmentally friendly and completely safe process is synthesis gas and glassy slag, which are secondarily usable as an energy source or building material. The company operates a science and technology park in Dubá, where it installed a new plasma gasification reactor in June (a prototype with a capacity of 150 kg of processed waste per hour). "This breakthrough technology is a modern and necessary alternative to the classic methods of waste management, the volume of which is growing every year. Plasma gasification reactors are space-saving and environmentally friendly compared to combustion technologies. They can effectively dispose of, for example, hazardous industrial or hospital waste and are also suitable for incinerators for ash disposal. He can also deal with sewage sludge, when the reactor with a capacity of 500 kg / hour. processes the sludge of a city of about 30,000. We are currently preparing the installation of this large-capacity prototype. Our goal is also to expand into Europe, which is why we are now seeking the entry of another investor, "says Marek Lang, Director of the Energo and Plasma Divisions.
JRD Energo: modern energy projects and sustainable solutions for apartment buildings
JRD Energo, which is primarily engaged in the preparation, implementation and operation of modern energy-efficient projects, achieved a total turnover of CZK 137 million in the first half of this year. In 12 years of operation, it has managed to build photovoltaic power plants with an output of over 40 MWp and the second largest wind farm in the Czech Republic with an installed capacity of 26 MW. Tens of MW of power in solar, wind and water sources is in preparation. In addition to this activity, he is also involved in the development of modern energy solutions for energy-efficient JRD development projects.
JRD Property: land portfolio for environmentally friendly construction
JRD Property or Land Bank operates for the needs of the JRD Group and private or institutional clients. Its main goals include the appreciation of invested land (eg in the form of their consolidation and division or the sale of building plots) or the acquisition of new land for future sustainable development. In 7 years of its activity, it has already acquired 3.2 million m2 and sold 1.3 million m2 of land. It now has 755 thousand m2 in development.
JRD Invest: investment in environmentally friendly real estate
JRD Invest is a new division of the JRD Group, which deals with acquisitions and management of yield real estate in cooperation with private and institutional investors. Its portfolio consists mainly of real estate intended for rental housing, which is implemented by JRD Development, and partly also of office and retail space. The goal of this division is to manage a real estate portfolio with a market value of CZK 5 billion by 2030.