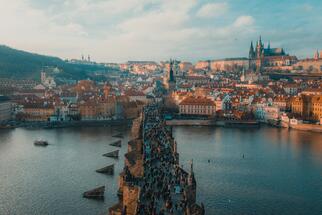 "It's about 250 accommodations of different types. However, I want to emphasize that Airbnb accounts for only 18% of the total turnover, "said Ivana Tykač, interviewing the E15 Premium magazine. Customers search through their own ads and through social networks. From the beginning of this year to the end of September, 2.6 million people were accommodated in facilities outside of classical hotels and guest houses in the Czech Republic. That's about ten percent of the whole market, according to data from the Czech Statistical Office. For example, in Prague in the Old Town, every fifth apartment is used to rent through Airbnb and similar platforms, the City Institute of Planning and Development found.
It was the historic center of the capital that was a long time domain of Ivanka Tykač. From the city district, she bought the old soils and gradually transformed them into luxurious attic apartments. Meanwhile, however, in the context of expansion into the tourism industry, it has also extended its range to Vinohrady, Smichov and Žižkov. "We are planning to build entire rental houses. Currently we are building three residential projects in Prague 2 and Prague 3. These are the renovations of the existing houses, "added the developer. The amount of the investment in this case will reach about 110 million CZK.
Short-term rentals provide significantly higher returns than revenues from long-term tenants. "For example, a two-room apartment in the center of Prague is currently leased for approximately twenty thousand CZK a month, plus fees. The proceeds from short-term rentals are free of charge for approximately CZK 45,000 per month, "explains Daniel Kotula, owner of the Re / Max City real estate agency. The final profits of apartment owners, among other things, reduce, for example, charges to Airbnb-type aircraft or the cost of cleaning and managing rented apartments. In the case of big players such as Ivanka Tykač, but according to real estate specialist from Re / Max City, the final balance will improve economies of scale, ie the distribution of costs among the large number of rented apartments.
(Autor: Daniel Novák)