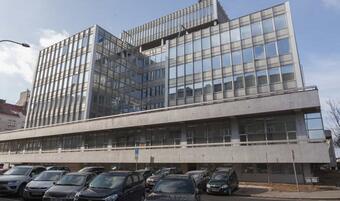 "For the time being, tenants and banks are shaping the market more than the legislation itself. The economy of buildings will be affected not only by loans, but also by insurance of buildings. The green certificate will no longer be mainly a marketing advantage, but some tenants from large corporations, for example, simply will not come without it, "says Colliers analyst Josef Stanko. This also applies to retail chains. For sustainability, they hear brands aimed mainly at younger customers.
"Property owners and their potential buyers are focusing on data collection. Risk management comes to the fore. The building is a technological unit, the costs of its operation are now well measurable, "says Stanko.
Roughly ten-year-old office buildings, during the development of which the developers did not invest in international green certificates Leed or Breeam, are beginning to undergo a new sustainability assessment. Additional certification can reveal what needs to be improved as part of the renovation.
In the future, it will be the usual procedure to completely vacate the older building, "shave" it down to the structure and install new technologies. For example, international real estate funds no longer ask for green buildings other than modern ones.
"Big investors want certifications. The projects are preparing for the global market. Let's admit that the world is different from us. For Western Europe, the ecological view is far more obvious, "said architect Jan Růžička at a conference of ABS magazine on reducing the carbon footprint. The construction and operation of buildings account for approximately 40 percent of global greenhouse gas emissions.
When even renovation won't help
The Czech development group Passerinvest completed the reconstruction of building B in the BB Center in Michel last autumn and immediately won an award in the Best of Realty competition. "It was the last reconstruction that had to be completed, so that in our portfolio we had only offices equipped with the most modern technologies, which also meet the requirements for sustainability," said Vladimír Klouda, CEO of Passerinvest.
"Developers are starting to race over who will be carbon neutral first, who will have more certified buildings. Green bonds help a lot. Banks take green projects and sustainability into account, they offer a better interest rate, "confirms the trend Lenka Matějíčková from Arcadis Czech Republic.
However, it is not always possible to achieve sustainable parameters through reconstruction. This applies in particular to office buildings built at the beginning of the new millennium. For example, Skanska Property expects to demolish its Mercuria Business Center in Holešovice in the future and replace it with a completely new project. Skanska is committed to achieving carbon neutrality by 2045.
Abroad, however, there are examples of successful renovations and older properties. For example, the Olympic Edge office building in Amsterdam, built in 1990, underwent a complete renovation five years ago, making it one of the most modern green buildings in the world.
Construction waste recycling
Also for the projects currently being prepared, the developers already anticipate that the buildings will need to be renovated over the years. "Buildings should be seen as a source of valuable material," adds Simon Kalvod, director of the Czech Green Building Council.
According to her, already in the project design phase, it is necessary to consider what materials will be used and what will happen to them when they reach their purpose. However, recycling is still in its infancy. In the Czech Republic, only about eight percent of the material is reused, the average in the European Union is 12 percent. In Belgium, for example, according to Eurostat data, up to 30% of building materials are reused.
Skansky's domestic branch, for example, has been using recycled concrete made from building rubble for over two years. According to the company, the so-called rebetong can solve the problem with a huge amount of waste, which otherwise ends up in landfills after demolition.