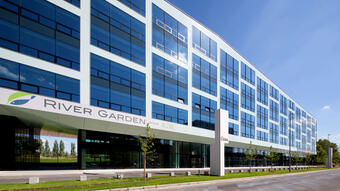 "With a total leasable area of more than 25 thousand square metres, River Garden II/III is the largest office complex that was completed last year in the capital city. It enjoys significant interest from prestigious tenants. The building is currently almost completely full with tenants such as Philips, JCDecaux, NCR and Hills," said Petr Herman, the Business Development Director, entrusted with managing HB Reavis in the Czech Republic. "The presence of Regus in our building has an added value for us. It brings an excellent flexibility to us, as a developer, and therefore potentially to our customers as well, which is of key importance for a dynamically-developing company," added Tomáš Stařík, the Leasing Manager of HB Reavis.
Regus currently operates nine business centres in the Czech Republic, specifically in Prague, Brno and Ostrava. By opening a centre in the River Garden complex Regus has expanded its network of business centres up to seven fully-equipped representative centres in Prague for work or for meetings with business partners.
"This step is responding to growing customer demand for our business centers in Prague and other suitable locations will follow in the coming years," stated Karel Pelan, the Director of Regus in the Czech Republic. "The River Garden II/III office complex is a modern building with high standards and facilities and it is located in the fast-developing Karlín neighbourhood, where a large business community is centred. Thus we are very glad that, thanks to the cooperation with HB Reavis, we can provide these attractive office spaces to our clients," he added. 
HB Reavis is an international real estate developer founded in 1993 in Bratislava, Slovakia. It operates in the key markets of Central and Eastern Europe (Poland, Czech Republic, Slovakia, Hungary), the United Kingdom and in Turkey. The operations have so far yielded a total of 820,000 sq m of modern offices, shopping and entertainment spaces in addition to logistics facilities, and a further 1 million sq m of developments are in the planning, permit or construction stages. The group has total assets of EUR 1.83 billion, with a net asset value of EUR 1.024 billion. With more than 440 professionals, HB Reavis is one of the market leaders in commercial real estate in Europe.
Regus is a worldwide provider of flexible workplaces. Its network, which comprises more than 2600 business centres in 106 countries, provides comfortable, high-quality and fully-equipped spaces in which people can work as required for a few minutes or for many years.
source: crestcom.cz