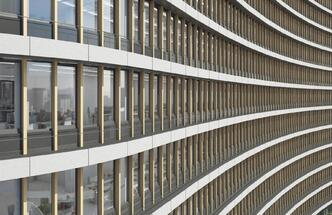 The Enterprise Office Center building has all the attributes to become a new landmark in Praha 4 thanks to its size and prominent position next to the Prague artery road and just a few steps from the Pankrác metro station. "For us as the developer, Enterprise Office Center is a dream project in which we have capitalised on all of our experience and know-how in the development industry," says Tomáš Velemínský, Director of Erste Group Immorent ČR, adding: "We wanted to create a modern and timeless structure that would be a natural and admired part of the city's public space even in ten and more years' time."
The developer, which is behind projects such as the successful Futurama and Avenir business parks in Prague, is thus continuing in the trend of developing sustainable and economical buildings that provide their tenants with comfort and a pleasant working environment. "In Prague, we have built 150,000 m2 of office space and another 30,000 m2 are in the stage of preparation," adds Tomáš Velemínský.
The Enterprise Office Center building will be certified by the prestigious international BREEAM Excellent certificate; sophisticated technologies warrant up to 25% energy savings compared with similar buildings. "Enterprise is the first office building in Prague with windows meeting the parameters required for passive buildings. As a result, the building is energy self-sufficient for temperatures as low as approximately 5 oC since the entire energy demand for space heating is covered by the waste heat that the building produces. Energy savings are also supported by a very efficient system of outdoor screening and special cooling beams," Tomáš Velemínský lists the technical amenities.
The modern approach to environmental issues and sustainability is also reflected in Enterprise Office Center's other facilities. In the car parking garages, sockets for electric vehicle recharging are ready, and a bike room with showers and lockers is available for employees who use bikes. The generously conceived glass-wall atrium, the cafe, and the garden are accessible for the public and will also serve as an art gallery and a venue for cultural events.
The quality of the Enterprise project is also borne out by the fact that even before construction was started, 50% of the space had been let to the first tenant, AVAST. "In the Czech commercial property market, this situation is rather an exception. I can also confirm that intensive talks with other tenants are approaching successful conclusion. We therefore expect a 100% occupancy rate for the building in a matter of weeks," adds Tomáš Velemínský, Director of Erste Group Immorent ČR.