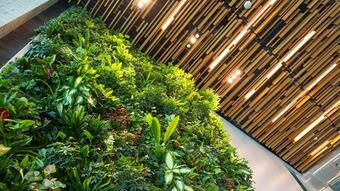 According to Skanska data, a modern, environmentally friendly office can save more than CZK 4,000 per square meter per year.
Companies with ecological offices can reduce energy costs by more than 4,000 CZK per square meter per year. This is confirmed by the data of Skanska Commercial Development Czech Republic. It really helps the economics of people working in low energy office buildings. This is especially true now that energy prices are rising so much. For example, the price of electricity has risen sharply by the end of 2022.
Energy costs are a problem for European households, but also for businesses. Offices spend a lot of money on heating, cooling and lighting, which makes up a large part of their budgets. Renting one square meter of office space in the center of Prague can cost up to 5,500 CZK per year, and electricity can cost even more. Although their office is located in a very energy-efficient building, electricity will cost them about CZK 4,000 per square meter in 2023 and may be even more expensive in the future. A year ago, it was only about CZK 1,300.
Businesses cut costs where possible
Businesses and government buildings are trying to save energy. Even the minimum temperature at work was lowered by the Czech government in September 2022. For example, offices can now only be heated to 18 degrees Celsius instead of the previous 20 degrees Celsius.
"Significant savings can also be achieved by effectively managing heating and air conditioning according to office occupancy. At the weekend, the air conditioning does not have to run at all, and in the evening, when there are not many people in the rooms, it is possible to turn it off earlier. It is also possible, for example, to reduce the temperature of hot water in boilers. In addition, you can also save on lighting – in addition to LED lighting, you can also use motion sensors. And even in garages, for example," explains Eva Nykodymová, health, safety and sustainability manager of Skanska's commercial development unit.
In a "green" office building, more than 40% of energy is saved
When looking for and choosing new offices, it is important for companies to think about how much energy they will use. How a building is heated, insulated and cooled has the biggest impact on how much energy it uses. Sustainable, energy-efficient buildings can use tens of percent less energy than conventional office buildings. When you compare them to offices in apartment buildings or older office buildings, the difference is even more obvious.
"It is essential that the heating is handled effectively and that the building is sufficiently insulated. In addition, our sustainable office buildings use technologies such as energy recovery, external window shading or LED lighting with motion sensors. All this, in combination with an appropriate building design that maximizes the number of office spaces with daylight, reduces lighting costs by up to 50 percent," adds Nykodymová.
Compared to what is required by the Energy Performance of Buildings (PENB) or the Czech Design Energy Performance of Buildings, Skanska's green offices save over 40% of energy (EPBD). A tenant who rents a green office can thus save up to CZK 4,000 per square meter per year.
The offices of the future must be environmentally friendly
The demand for high-quality and environmentally friendly office space has been growing for a long time, and rising energy prices only reinforce this trend. Sustainable spaces pay off in the real world, and as energy prices rise, they pay off even more.
"Sustainable office solutions are an investment that pays off - just like photovoltaic panels on family houses, for example. The market is realizing this and therefore the demand for the standard we have set is growing. For example, our Parkview building in Prague's Pankrác even consumes much less electricity than required by the prestigious LEED Platinum certification and Czech regulations. We strive to set an example in this regard and motivate other construction companies to start paying attention to energy efficiency when building offices. It turns out that it is the only right path towards the future," concludes Nykodymová.