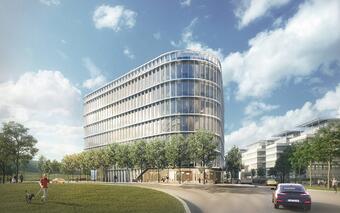 The complete visualization of the project, space specifications and plans for the future development of the entire existing site can be viewed on the newly launched website www.roztylyplaza.cz. The developer and investor of the construction is the Passerinvest Group.
"The Roztyly Plaza building is proof that it is possible to feel comfortable even at work. We do not perceive offices only as a place for a desk, but as an environment where you can look forward to where it is possible to effectively create and inspire each other. In addition to standard client requirements for various spatial arrangements, we can satisfy the highest demands on the quality of the indoor environment, especially with regard to above-standard air exchange capacity, which is a very important parameter for many tenants not only during the Covid-19 pandemic. We are also continuing our standard of generous roof garden concepts and a unique inner atrium will be a very interesting element. Roztyly Plaza will definitely not be an ordinary office building, "said Lenka Preslová, Sales Director of the Passerinvest Group.
Convenient transport accessibility and amenities
Thanks to its location right next to the metro station line C Roztyly, the bus terminal of city, suburban and international lines and the main arteries (May 5, South Junction), the Roztyly Plaza building is easily accessible not only by public transport but also by car. The building will also include underground garages with 330 parking spaces for tenants and another 100 parking spaces for P + R. Cycling enthusiasts will appreciate the direct connection to the bike path. They can then store the bike in the bike shed and then use the locker room and showers in the background.
PASSERINVEST - Roztyly Plaza, interior
In addition to generous offices, there is also 1,600 m2 of retail space on the ground floor of the building. They will bring the necessary civic amenities to the locality, which have been lacking here so far. For example, a supermarket, a public canteen offering modern catering, a drugstore and other shops and services for everyday use should be established here.
Office space next to the green park Nové Roztyly
The project is being created in the immediate vicinity of the Nové Roztyly Park, which connects to the Krč Forest. This Passerinvest park has been cultivating for a long time and complements it with sports and relaxation elements. Thanks to this, it already offers its visitors a range of opportunities for sports activities and relaxation. In the park it is possible to use a number of sports fields, such as a workout playground, outdoor fitness, parkour playground, disc golf or running and cycling routes. For further relaxation or informal meetings, tenants will be able to use sitting on a large roof terrace with landscaping, rich greenery or an atrium with relaxation zones and water features.