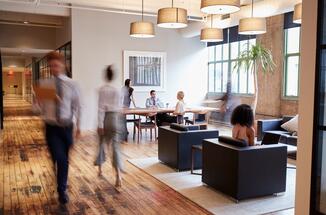 The REIO (Real Estate Innovations Overview) research has been carried out by the consulting company KPMG since 2015. This year's seventh year brings an overview of 783 innovations from companies from 45 countries on all continents. Among them are four Czech companies – Spectrasol, Spaceti, BeiT and Flowbox.
Spectrasol has developed special interior lighting that has a beneficial effect on the human organism. Spaceti came up with sensors helping to optimize the use of office space. BeiT offers online applications for monitoring energy consumption in residential buildings. Flowbox installs tools in various types of objects enabling, for example, control of the flow of energy or waste management, monitoring the utilization of machines or parking spaces.
"The increase in the number of domestic companies in the REIO overview is good news for the Czechia, which no longer acts as an innovative cinderella on the global real estate scene. I believe that in the coming years, more Czech companies will be added to the overview. I also expect an increase in the number of representatives of Slovakia, which now has only one company in the overview," said Pavel Dolák, a real estate expert from the Czech office of KPMG.
"The four Czech companies placed this year have again become visible on the global business map, which is important because they also target foreign customers and investors. After all, Spaceti received an investment from Saudi Arabia in May. Money from abroad has already flowed into other Czech proptech companies as well," he added.
The most innovative is the management of smart buildings
The most, specifically 18 percent of innovations come from companies from the Netherlands. Canada is in second place with 13 percent, and Great Britain is third with 7 percent.
The most, precisely 313 innovations, were presented by companies focusing on services related to the management of smart buildings. In second place, with 152 innovations, came companies operating in the field of rentals and other real estate transactions. Third, with 113 innovations, are enterprises engaged in construction work.
A third of innovations are related to digitization
REIO divides innovation into nine broad categories. The most, specifically 34 percent of innovations fall into the category of digitalization of processes. The second largest share, exactly 22 percent, is held by the category of innovations related to connectivity and communication.
"There has been a significant increase in innovation towards greater sustainability. This year, this category achieved a ten percent share and thus finished in third place. Innovations in this category mainly include measures for more efficient use of energy and resources," explained Dolák.
Innovations were also shown by companies operating in other, often very different areas, such as flexible offices, 3D mapping or the Internet of Things.

Record investment in proptech
The introduction of technology into the world of real estate is mainly devoted to startups from the industry known as proptech (a combination of the English abbreviations for real estate and technology). Global venture capital investments in the proptech segment reached a record 24 billion euros last year. This is 28 percent more than the year before, REIO points out.
"The increase in the number of innovations in the real estate sector and the volume of investments in them is influenced, among other things, by the response to economic problems associated with the growth of inflation, interest and construction costs. The general rule is once again confirmed that if market players are under pressure, they are more motivated to look for new solutions," concluded Dolák.