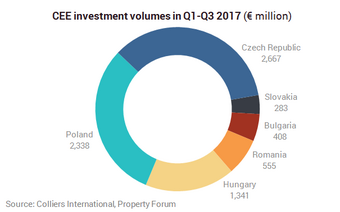 Total investment volume in the CEE-6 countries reached €2.2 billion in Q3 2017. Substantial growth in Czech (+71 percent year-on-year) and Bulgarian (+158 percent y-o-y) volumes were the drivers of the momentum in the January-September 2017 period.
The Czech Republic remains the largest recipient so far this year, still ahead of its larger neighbour Poland.
Considering the sectors in CEE, retail and hotel investment volumes continue to rise by the most, whilst purchases in the industrial sector appear to be more concentrated at the portfolio level for now.
"Several of the newer sources of capital we have identified featured strongly in Q3 2017. A combined 29% of investment came from domestic sources within the CEE-6 countries or CEE cross-border flows: Czech and Hungarian money is prominent. South African funds made a comeback in the quarter, comprising 25 percent of the invested funds," says Mark Robinson, CEE Research Specialist for Colliers.
Underlying the strong flow momentum is a robust demand growth story, with the economies of the CEE-6 region registering GDP growth rates of between 3.2-5.9 percent year-on-year in Q2 2017. Evidence from more recent industrial production and retail sales numbers suggests that this growth momentum is extending into the second half of the year.
Source: EuropaProperty