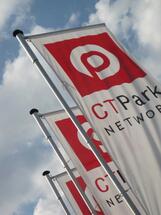 Czech-based property developer CTP is opening two new business parks in the Czech Republic and one in Slovakia.
CTPark Kadaň is situated about 30 minutes from the German border and near the industrial city of Chomutov. The total area of the business park is 36,000 square meters, the current leasable area of more than 17,800 sqm with the possibility of future expansion. Prospective tenants can lease space from 7,000 to 17 000 sqm.
Near the town of Cheb in Western Bohemia, CTPark Odrava is on an area of 100,000 sqm, with a lettable area of 47,000 sqm. The business park is just 10 minutes from the German border and offers direct highway connection to Germany, Prague and Plzeň. Areas for rental start at 3,000 sqm.
The third business park is CTPark Žilina in Slovakia. The complex has a total area of 107,000 sqm and offers rental of almost 55,000 sqm.
Spaces for rent start at 1,150 sqm. CTPark Žilina is ideal for companies in the automotive industry due to the vicinity of the plant for KIA Motors, according to CTP.
CTPark Žilina has excellent transport links to Brno, Vienna and Bratislava.
CTP is a leading developer of commercial real estate in the CzechRepublic. Its main activity is the company's network CTParks, which are located throughout the Czech Republic, SlovakRepublic, Romania and Poland.
The total area that CTP operates covers 2.3 million square meters. The expected rental income for 2015 is €145 million.
Source: Praguepost.com