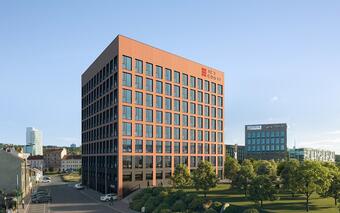 Red Court Building
The Red Court building alone has over 7,000 m2 of office space on eight floors and boasts LEED GOLD sustainability certification. But the focus is on the person, so standard windows that open with external blinds, roof terraces, a bike shed or showers on each floor are standard. However, the main domain is the internal modular layout, and thus maximum flexibility for tenants.
"Moving to a new address will allow us to have all employees of our group under one roof, which will significantly streamline all processes. At the same time, I am pleased that we are staying in Karlín, where CSG has been operating for a long time. The Red Court project appealed to us by meeting all our requirements for office space, from accessibility, a quality working environment to the highest possible environmental certification of the building, "says David Chour, Deputy Chairman of the Board of Czechoslovak Group.
Four hundred CSG employees working in Prague will move to the new headquarters. The project envisages both fixed office space and shared jobs in case of need for facilities for employees and managers of non-Prague companies of the entire group.

Red Court, interior visualization
"A business where one tenant rents the whole building is not born every day. It is a prestigious holding company of companies mainly from the Czech Republic and Slovakia, so I am glad that supply and demand intersected right here. The new building of the Czechoslovak Group can provide the necessary peace and comfort, so it has met even the highest requirements for a new headquarters, "says Dušan Palcr, Chairman of the Board of Directors of J&T REAL ESTATE CZ.
The façade in a non-traditional brick color honors the industrial history of the place and the design of the building is intertwined with the neighboring Rustonky complex, which the developer has completed in recent years. In the area, employees will find all the comfort that today's vibrant Karlín offers. Literally a few meters from the Red Court are restaurants and services, as well as the Invalidovna metro station or the entrance to the Vltava cycle path. The planned development of Rohan Island and the surroundings of Palmovka in the future will only underline the attractiveness of the locality.