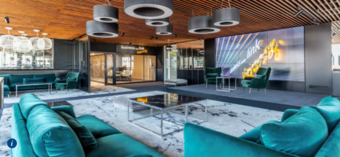 Usually, shorter-term contracts and the resulting significant flexibility - these are the main features of the concept of flexible offices. "The offer of centers offering this type of space is different, in our case we offer companies offices with different numbers of places, depending on their needs. Tenants also have access to common areas, relaxation zones, outdoor terraces, and meeting rooms," explains Jana Gerhátová, Business Link Visionary manager, noting that in the case of the Holešovice center, the number of rented seats is paid for.
Effective use of space in the home office
The use of classic offices is currently significantly influenced by working from home. Many companies have tried in recent weeks and months that such a system of work is possible. In addition, new hygienic standards significantly affect work in large open spaces - the so-called open space. The result is an inefficient use of offices, and the consideration of financial demands is typical in times of uncertain economic development. "Today, the economic side is more important instead of ostentation, so companies try to choose the space so that the jobs they offer can be done smoothly and efficiently," explains Gerhátová, pointing to the fact that traditional tenants are usually bound by long-term contracts so it is very difficult for them to change their office space usage model quickly enough to adapt to the market situation.
Work on the principle of a rotary model
The vast majority of employees welcome the home office option, yet only a small part of them express interest in working only from home. Due to the need to combine teleworking with office work, the popularity of so-called rotary packages will increase. With such a product, companies have more access cards than their number of leased jobs. In such a case, it is necessary to coordinate who works from the office and who remotely, which is usually compensated by a lower price for office space.
Source:// Petra Járková - Čti doma