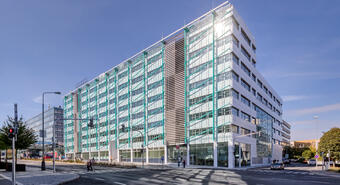 The A8000 architectural studio designed the sensitive and purposeful renovation. The property is owned by the investment and development company PASSERINVEST GROUP, which, as the responsible city investor, is constantly developing the BB Centrum complex and modernizing existing facilities to offer first-class services. At the same time, it improves the urban environment thanks to the parks, playgrounds and sports and relaxation areas. The total investment in the reconstruction of Building A was CZK 500 million .
BB Centrum - Building A, lobby
The most striking intervention is the modification of the facade - the original plaster was replaced by smooth sheet metal cassettes, the steel structure facing Vyskočilova Street is highlighted with turquoise paint. Newly, a roof garden of 1,400 m2 with gazebos, mature greenery and relaxation areas and other green areas in the glass atriums on the ground floor are built on the roof on the 7th floor. Reconstruction of Building A took place from April 2017 to October 2018.
BB Centrum - Building A, terrace
The cleanliness and simplicity of the building's layout has been preserved, as well as the glazed top of the atrium, through which natural light permeates the building. The building is newly equipped with six elevators with intelligent target control, and the radiant ceiling system aquatherm black is used for heating and cooling. The original reception desk in the shape of a white amoeba was replaced according to the tenant's assignment to match the shape and color combination of the MONETA Money Bank brand.
BB Centrum - Building A
During the reconstruction of Building A, the adjacent sidewalks were repaired and a pedestrian crossing was built through Vyskočilova Street and a new bay for the bus stop. MONETA Money Bank has a branch with ATMs on the ground floor of its headquarters and the Perfect Canteen self-service canteen for the public.
"We built Building A in 2002 as the third project of BB Centrum. It has served its purpose for 16 years, but technology and trends are changing and now we need to invest in more extensive adjustments. We want to maintain the high standards of BB Centrum permanently, not only through the range of services we offer, but also by maintaining the first-class quality of the previously built office buildings, " says Radim Passer, founder and CEO of Passerinvest Group .
Source / photo: www.retrend.cz / Crest Communications, as