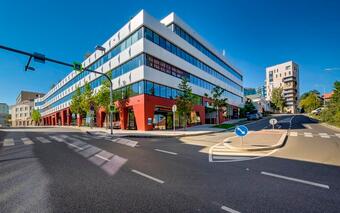 Avatar VR Park offers unforgettable experiences
Avatar VR Park offers a wide range of game attractions that will interest not only children but also adults. The comprehensive VR experience offer covers an area of ​​500 m. There are twenty gaming devices in the four game worlds, such as single trainers and boxes, or a large multiplayer zone for up to four competitive players, where you can try your favorite "escape" with your family or a shooter with colleagues. Visitors can also experience an unforgettable experience on an adrenaline jump from a skyscraper, or while flying over the iconic buildings of our planet in the body of an eagle.

A8000 - Building G in Prague's BB Center
"Brumlovka is an ideal place for our VR Park, because our concept fits exactly into this modern environment and at the same time it houses many companies that with the advent of Avatar VR Park have the opportunity to organize unforgettable teambuilding events or come to us after work to relax from the real world and everyday worries. The location is also advantageous, which is easily accessible by public transport and its connection to the Prague ring road and the D1 motorway, "said Dan Broulík, CEO of Avatar VR media.
VR Park can be visited every weekday in the afternoon and evening or on weekends. This type of entertainment is suitable for the whole family and of course there are also gift vouchers that will please every adrenaline and fun enthusiast.
"Virtual reality and its possibilities are constantly moving forward and becoming an integral part of our lives. Avatar VR Park is one of the top VR experience and offers fun leisure activities for children and adults. It is therefore a great addition to our services and we believe that it will become another reason to visit Brumlovka and take advantage of the ever-expanding range of shops and services you can find here, "says Lenka Preslová, Head of Sales at the Passerinvest Group.