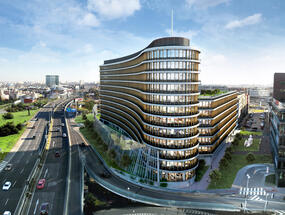 Avast company, the producer of antivirus programs, will occupy a half of the large office building in Prague-Pankrac. It was announced by Erste Group Immorent, the developer of the project at the topping out ceremony of the reaching the highest point of the building - 50 meters above the ground.
According to Avast Chief Operating Officer Andrew Vlček, the IT company takes on 200 new employees this year. It means that Avast is to occupy about 15,000 square meters in Enterpirse instead of 11,000. The company currently employs around 480 people at the headquarters in Prague and another 70 elsewhere in the world, confirmed the company's HR director Kamila Štěpánková.
Enterprise is among the two largest office buildings in Prague to be completed this year. Its capacity is slightly over 29 thousand square meters of office space. The 120-meter-long building is designed as an energy saving. Outdoor shutters on all windows fitted out with individual control shading and penetration of ligh can save up to a quarter of the cost of cooling. The total spending on energy in Enterprise office building will be by a quarter lower compared to an average building of that kind.