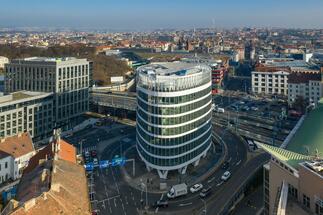 "Green Point is an architecturally impressive office building in a lucrative Prague district that has significant development potential. We wanted to diversify our portfolio and strengthen the representation of Prague assets in the fund. The purchase of this property makes sense for us, it fulfils our requirements and perfectly complements the existing assets of our Office Sub-Fund," says Marek Herold, Chairman of the Board of Directors of the WOOD & Company real estate fund. According to Herold, Prague's Smíchov is a traditional office hub and the current development in this location is bringing it back to the forefront.
The Green Point building is part of a lucrative and developing location in Prague's Smíchov, with excellent civic amenities and accessibility from various parts of Prague. It is a transport hub, with several tram stops, a metro station and a city ring road entrance in close proximity to the building. The Nový Smíchov shopping centre and a number of restaurants are located nearby. The Green Point building itself, which was completed last year, is BREEAM Excellent certified and the emphasis throughout the building is on efficiency and a healthy environment. The building has eight floors above ground, with 7,500 sqm of office space and three underground levels, with parking.
"Currently, about 50% of the leasable area of the building is occupied and contracts with other tenants are about to be signed. We believe that we will be able to fully occupy the building in the coming months. Current key tenants include companies from the logistics, fertiliser, IT and gaming segments," adds Herold. According to him, the real estate segment, and office real estate specifically, is still one of the most stable investment opportunities, with interesting yields.
The WOOD & Company Office Sub-Fund is open to new investors who are considering investing in real estate in the medium term. The investment strategy of the Office Sub-Fund focuses on high-quality office buildings in the leading cities of the CEE region. The Sub-Fund aims to create, optimise and actively manage a portfolio of buildings in good locations, with a diverse tenant mix, stable cash flows and conservative debt levels over the long term.