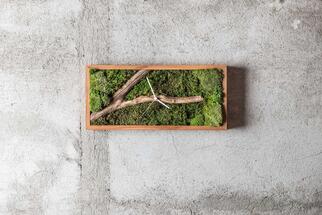 Not only according to the international company Ambius , the moss is one of the main design trends that will grow more and more office interiors.
Why?
Because of biophilia. Man is supposedly encoded in the genes to be in contact with nature. Looking into the green is calming him. So employees are less stressed and more productive.
"We spend more and more time at work, so we wanted to keep our people from working out of their jobs. The moss wall has become an indispensable part of our office. Moss is an unconventional way to bring a little green to a place where classic flowers don't fit, "says Nikol Stolle, director of Socialsharks. In an agency that specializes in social network marketing, shark fins have a large logo from the moss, but the moss is also in small aquariums on the kitchen walls (see photo below).
Moss wall in the offices of Socialsharks
At what price?
Suppliers can fulfill almost every wish. The only limits are fantasy, space and, of course, budget. It is true that what a moss wall is, it is unique. How much do you pay? For an idea: a 50 × 50 cm wall moss panel is available at mechdekor.cz for approximately CZK 3,000. With moss paints, you can easily reach tens of thousands of crowns, depending on the size, frame material and other decorative elements.
Moss clock. Photo: Nature Designs
No worries
Moss walls are a green alternative to vertical gardens. In contrast, the mossy "carpet" is virtually maintenance-free because chemically stabilized plants are used in the installation, which, in layman's terms, hibernate. So do not worry about mold or unwanted insect colleagues.
Low demands are also confirmed by Vojtěch Pištěcký from Nature Designs: "There is no need to water, fertilize, or otherwise maintain moss from our production. Once in a while it is enough to blow the dust out with a vacuum cleaner. We are ready for anything else, a five-year service of the moss wall in practice. "
You can glue almost anything from the moss. The interior of the travel agency was decorated by Mechdekor.cz
It won't fade
You do not have to worry that the lush greenery of the moss will fall off with the first day of summer. "Lifetime, then
also the color of moss and other materials used for 10 years. In the event that a problem arises, we will solve the problem by a service intervention, "says Vojtěch Pištěcký of Nature Designs. However, it is only necessary to ensure that the moss walls are not in direct sunlight.
Photo: Nature Designs
Not moss like moss
There are several types of moss in the interior that have grown in nature, but have been chemically "mummified" so that they are close to hibernation. According to Flower Company, biodegradable products that meet hygiene standards for the working environment are used for preservation. At the same time, the company warns against the use of moss walls from the so-called Icelandic or Norwegian moss (which are de facto lichens). "Two negative material properties are essential for indoor use: At lower relative humidity, the lichen hardens and becomes completely brittle, falling apart when it touches itself. In the porous structure of the lichen, dust is deposited that is technically impossible to remove, "notes Flower Company.
Ideal conditions for placing moss walls:
• avoid physical contact
• Do not expose to direct sunlight
• require constant room temperature
• require relative air humidity ranging from 40% to 70%
• Do not expose to direct artificial light
• Do not humidify, do not place in areas with potential contact with water
Care:
• according to dustiness, regularly clean the dust from the air by spray, hair dryer (cold air, low speed)
Source: Flower Company
Forrest eye moss clock from aged cedar massif. Price: 13 706 CZK
"The moss will not provide inner certainty and peace or harmony in the workplace. But after the report sent to the company director, the way for a new dose of espresso, the moss wall, at least for a little while, designs the forest. Where no report or boss is, no matter where LTE is not going.
Vojtěch Pištěcký, Nature Designs