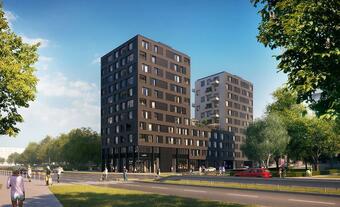 "Conservation protection and the combination of modern architecture with historical context is one of our special themes. Our flagship projects include the Jinonice Chateau, where we renovate a national cultural monument from the 17th century or the U Milosrdných project, where we enter the heart of the Prague conservation area with modern architecture. We devote special care to both projects so that their final appearance is beneficial for their surroundings. Therefore, we would like to contribute our experience to discussing whether to build in the historic city center and how to approach the building so that the city does not devastate, but enriches it, " says Jaroslav Vondřička, partner and director of V Invest . Other topics in V Invest include the construction of more environmentally friendly apartments and houses, as well as cooperative housing.
The Association of Developers
The Association of Developers as a strong industry organization whose goal is to cultivate the developers' activities and improve the image of the entire industry through an open discussion with the public and representatives of government is a suitable platform on which similar topics can be opened.
"The Association of Developers has long been committed to setting clear rules in the area of ​​territorial development and adhering to a high ethical standard in doing business in this area. We are very pleased that more and more developers are joining this effort, " says T omáš Kadeřábek, Director of the Developer Association . "We are very pleased to have similar values ​​with the Association of Developers. We endeavor to support the efforts of the Association for Market Cultivation and moderating discussions with all stakeholders in the long term. Now is the time to engage ourselves in these activities and contribute our part to making the word 'developer' crazy , ' adds Jaroslav Vondřička .
V Invest CZ, as is a residential developer operating on the Czech real estate market since 1991. Its aim is to meet the needs of clients in various life stages, which are connected with different demands and requirements for housing. Thanks to a sophisticated approach, it builds real estate that gives its residents a unique place to live and whose value grows over time. Individual projects are carefully planned to be in line with the nature of the site and benefit from it.
Source / photo: www.retrend.cz / Madison Public Affairs sro / Title photo - V Invest Development sro - LOOX PROSEK APARTMENTS