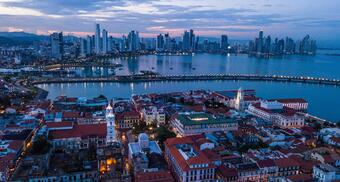 UDI Group intends to invest approximately 750 million crowns in two high-rise residential projects in Panama City. He is collaborating with local architects on the project, but the company would also like to bring in one of the major European studios. In total, UDI Group plans to invest approximately three billion crowns in Latin America over the next four years.
Open market

"Panama City, this is Dubai Latin America. An open market that is very demanding. There is a lot of competition on it, but at the same time it works and you can rely on fast and transparent processes from the state, experienced suppliers and a high-quality financial sector. Despite strong international competition, there are still plenty of opportunities. The presence of companies from Europe and the USA is a guarantee for us of the security of the investments made, "explained the reasons for the territorial diversification of the business of the UDI Group Marcela Fialková, its director for strategy.
The group has been preparing to enter the Latin American market for several years, and its team has been operating in the local market for more than a year. "It never occurred to us that how far-sighted the decision would be. At present, having a diversified business not only in segments, but also territorially outside the European market will now be a great advantage for us, "added M. Fialková.
Housing and investment

In Panama City, the group acquired two plots of land. The first is by the Pacific Ocean in the modern and highly sought after Coco del Mar district. A 25-storey apartment building with approximately 140 luxury apartments will be built here. Living with an ocean view will be intended for both the local economic elite and renters from the USA who are looking for advantageous ways to save money and spend a pleasant end of life. In the international Global Retirement Index of ideal retirement countries, Panama is number one and Costa Rica number two in the world. Colombia is also in the top five, where UDI Group is also considering investments. In addition to the aforementioned house in Coco del Mar, UDI Group will also build another project in the Panamanian capital, which is closer to its center.
Simplicity and speed

"Panama is a very developed functioning market, which benefits from canal revenues and a very well-developed developed banking. We focused on what we are strong at, ie housing for the upper middle class, "explains Štěpán Svoboda, Director of the UDI Group for the Caribbean. According to him, construction in Latin America is in many ways different from that in Europe. Mj. apartments must be dimensioned for American washing machines and refrigerators, the houses must have shafts for waste disposal and necessities are also equipped with common areas - gym and communal pool are the bare minimum.
In the region, it is necessary to take into account the extra costs with regard to seismicity. On the other hand, there are also norms and standards that make construction cheaper than in Europe. For example, parking is common on the first few floors, not in the basement of the house, as is common in our country. With regard to the climate, there is also no need for insulation.
The expansion continues
Two months ago, the group bought a plot of land in northern Costa Rica, where it is preparing a project for an apartment building with 15 floors and about 120 apartments. "In Costa Rica, we have already made progress in preparation. We are now preparing a project with local partners so that it is ready to start negotiations with the authorities by the end of June this year, "says Š. Svoboda.
In addition to Costa Rica and Panama, UDI Group currently operates in four Central European countries. He builds offices, flats and "industrial" in the Czech Republic, Poland, Hungary and Serbia, and most recently in Latin America. The group is preparing new acquisitions in Western Europe and the Caribbean. He is currently working with 19 projects, whose revenues in the next five years he estimates at 44 billion crowns.