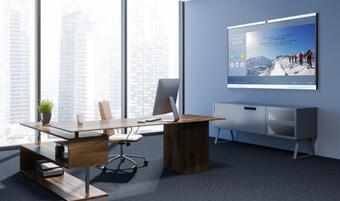 Progressive companies began to abandon the traditional concept of office space and fixed working hours long before the Covid-19 pandemic broke out by investing in advanced technology solutions such as the cloud, video conferencing and remote access technologies. The health crisis has not only accelerated this process worldwide but has also irreversibly changed our vision of a modern office.
But we should not announce the end of office space, says British university professor André Spicer. Although it predicts a significant decrease in the time that employees will spend in the office environment, the office as a place to meet and collaborate will not disappear. However, its concept will change radically and modern technologies will play a large part in this.
Autor: Huawei
A smart office anytime, anywhere

The intelligent technological novelty IdeaHub was designed to facilitate team collaboration and simulate real meetings between people. It combines interactive whiteboard features with tools for video conferencing, multi-screen collaboration, remote access, and touch-based intelligent writing. It easily replaces the whiteboard, projector and professional video conferencing equipment. IdeaHub is equipped with artificial intelligence functions that are able to block excess noise or automatically adjust the camera's shot and angle based on the spatial layout of the conference room and the number of participants. Ideahub supports the use of various communication platforms, such as Zoom, Teams or Webex. Minimalist design, easy connection and intuitive operation are just another of the many benefits.

Author: Huawei

"Today, many employers and employees are beginning to prefer a flexible concept of the workspace. One of the new trends is to enable mutual interaction and cooperation between employees in new ways, regardless of the environment in which they find themselves," says Pavel Košek, Director of Corporate Communications at Huawei. Technological tools such as IdeaHub are undoubtedly a promising future. In the future, a smart office ecosystem is key to a thriving business.
Source:// E15