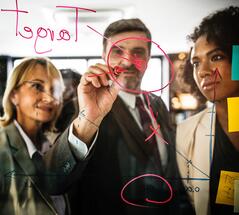 With more build-to-rent (BTR) developments coming on stream, the concept of 'good management' continues to be in the spotlight. A question often asked is: how does good property management add value to schemes?
Letting and property management is, by nature, extremely granular, complex and multifaceted. The length and breadth of skill, talent and time involved to carry out this function is often underestimated. Every facet, transaction and function carries an element of risk – which a property manager is responsible for mitigating.
Protecting people and assets is the core function and responsibility of the property manager and getting this right in its entirety must always be the top priority. However, in th rapidly changing, service-driven, competitive BTR sector, savvy consumers have high expectations and demand far more than this minimum management standard.
Comparable, although not nearly as glamorous, is high-quality tenant service for BTR developments, which requires skill, expertise, seamless technology and infinite planning behind the scenes. The customer experiences the end result exactly as they should, without knowing or needing to know what happens to deliver such excellence. And for tenants who value this, they will pay for it.
The best property managers use their tenant service expertise, leveraged by tech, to help maximise occupancy and minimise voids, to ensure income streams meet the investor's expectation. However, arguably more important than any of these factors is the creation of the right culture. In order to create the appropriate culture, we have to understand the individual property managers, not just their function but why they do what they do.
In my opinion, long-term BTR success is built on people and their 'emotional ownership' of what they do. To care about what you do and how you do it allows you to stand out from the crowd, especially in what could soon become a homogeneous rental product.
Creating a fit-for-purpose culture of ownership and inclusion is imperative. Skills and technical knowledge can be learned and gained, as can experience, but personal values are ingrained and a key ingredient of how people perform on a day-to-day, granular level of activity. BTR operations are made up of 100 daily actions, 1,000 weekly tasks and a million annual decisions and every single one has the capacity to make a difference to the performance and experience of the property and its people. It is this that makes the difference and is where property management truly adds value.
Written by Lesley Roberts