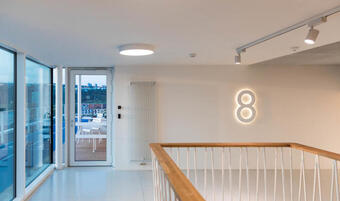 Eva Nykodym, Security and Sustainability Manager at Skanska Property Czech Republic, who was the developer of the Visionary project, says in an interview for #MORETHANOFFICE, "It's not easy to get a WELL award."
"It is a guarantee for residents that Visionary is a perfectly healthy building that not only helps their health but also supports other aspects - comfort, balance of light, sport, relaxed mind, healthy food and more," he adds.
According to Eva Nykodyma, WELL certification costs have risen to at least 0.2 percent of the total building investment.
How did you celebrate the WELL certification and this unique leadership?
I fell asleep with the kids at the fairy tale, and the moment I went to save them, I looked at the phone and there was a flood of messages and missed calls. Then I opened an email with the final report that we have the WELL certification, plus GOLD!
Incredulity, incredible joy, phone call with our boss, sharing joy all around - with family, colleagues, friends and especially a wonderful feeling.
Unlike ecological certificates such as LEED or BREAM, WELL certification is not only granted on the basis of completed forms, but based on practical measurements on site. What was the focus of the Commissioners who decide on certification?
The evaluator spent three days with us in the building in Holešovice. In many places he measured the content of volatile organic compounds and dust in the air. This is probably the hardest part of the process. You expect another 45 business days for results.
It also visually checked what we declared. For example, there must be no smoking in the building and its vicinity, there is a library, facilities for sports and many other aspects. At the same time, water samples were taken and sent for qualitative analysis.
Eva Nykodymová, Security and Sustainability Manager at Skanska Property Czech Republic
The first measurements went well, but the Commissioners still found some shortcomings. What did you have to remake?
Of all the 41 requirements, we had to correct one. There was a need to add a sign to the smokers' point that smoking is harmful to human health.
BETTER INSIDE THE OUTDOOR
Can you figure out how much you invested in a "healthy certificate" in total?
We speak at least 0.2% of the total project investment. Costs are very individual according to the project and the level to which they are targeting. However, the above 0.2% does not include the cost of other elements that make us a GOLD certification level.
On tour in Visionary offices. Pictured interior of Coworking Business Link
In fact, it is not paradoxical that you have to make great efforts and resources to create the right environment for a person's life?
Paradoxical? In every possible way we must strive to improve the environment around us. The indoor environment is cleaner and healthier than the outdoors. And that shows that we have to constantly care for the environment around us and behave sustainably. It is no unnecessary luxury, but a guarantee and certainty of a healthy building.
Several companies have been working in Visionary since last summer. When you move to this building, what does it know at first sight that it is a healthy building and one of the best in Central Europe?
Perhaps one colleague, who said that when she parked at Visionary, seemed to find herself in another world… You see a nursery and children playing, a water feature, a multifunctional playground, lots of trees and greenery, and places to sit and rest. . There are several terraces within the building, connecting bridges between the buildings on which there are trees and seating tables across most floors. Likewise, the very design of the building suggests a lot about how the building is bright and open.
Why should one move to work with a WELL certified building?
He will be confident that he is working in a healthy environment where there is nothing to negatively affect his health. What is most harmful - volatile organic matter and other metals - is neither visible nor felt. The building with WELL certification has been independently measured, and the safety of building materials has been proven.
And all this - light, pleasant materials, comfort that the building gives extra - is a great benefit that positively contributes to health and mental state.
Time-lapse video: How Visionary was built
2 + 1 TO THE FUTURE
You have only started to try certification in Skanska when the project has already started. Was it a complication or an advantage?
It is best to start at the design stage, at the very beginning, so it was really late. And we were all newcomers to the WELL certification field. We worked with what was already given by the project, and yet many things were positively influenced. However, if Skanska did not build its objects as well as they build them for a long time, I think that the journey would be very long and perhaps unfulfilled.
What will happen next? WELL certification should be renewed every three years, but you as a developer have already sold the building.
We have to prove on a yearly basis that certain parameters that are given by certification are checked within the object. Here we have constant support of the owner of the building. He is very interested in WELL and we are working together to further improve the certification.
You have previously announced that you will seek WELL for every new office building. Does it still apply?
Yes, we have two more buildings registered (Praga Studios and Parkview), one of which is under construction before filing and registering the third building.
PHOTO: Virtual tour of the Visionary building in Holešovice ↴
Source: www.morethanoffice.eu