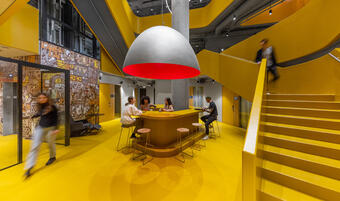 The pandemic acts as an accelerator for flexible and shared offices. This is predicted by an analysis of the real estate consulting company CBRE. According to CBRE, the segment, which was still experiencing a record period in 2019 and was cooled by a pandemic last year, is gaining strength again.
"In the Czech Republic, there are over 103,000 square meters of flexible offices in modern buildings. Operators who have been able to diversify their portfolios both in terms of the locations offered and the group of clients they now have have sufficient financial resources and opportunities for expansion. We have been recording growing demand again since the first quarter, "says Lenka Hrudíková from CBRE.
"In the course of two years, another 85,000 square meters of flexible space will be completed in the region of Central and Eastern Europe, while 1,800 of them are already being implemented in the Czech Republic and further projects are planned," added Hrudíková. Over 643,000 square meters of flexible offices have been established in the CEE region over the past 15 years.
Within continental Europe, the share of flexible solutions in the total office offer is currently two percent. "The highest market saturation is in London, where almost six percent of the total number of office space is used by coworking operators. In the Czech Republic, it is 2.3 percent, similarly to Poland, "adds Hrudíková.
CTP has Clubko
Even the owners of office real estate do not underestimate the potential of coworkings. More often, collaborations with existing coworking operators or the creation of own brands appear. A month ago, the industrial developer CTP opened its own Clubco coworking center in the center of Brno. In the Vlněn office complex, it offers two thousand square meters of shared offices with a capacity of over two hundred seats.
Clubco aims to connect large and medium-sized companies with startups and freelancers. Therefore, like other coworkings, it emphasizes technological tweaks, original design and architecture, and various membership options. "We are at a time when changes in experienced work stereotypes are being considered to a large extent and the demand for this form of office space is growing," said Jiří Kostečka from CTP.
Source:// E15