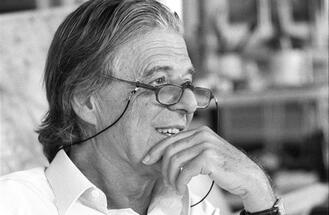 Bofill will complement the already strong composition of the afternoon architectural block, which will focus primarily on the development of architecture in the Czech Republic, in connection with the intention of Prague to build a new concert building. According to current plans, it should grow as part of the revitalization of the Bubny-Zátory area on the left bank of the Vltava River near the Vltavská metro station in Prague's Holešovice district. Ricardo Bofill will also come to Prague with his son Pablo, who accompanies his father as head of his architectural office Taller de Arquitectura .
Ricardo Bofill is the author of a number of prominent buildings
Ricardo Bofill is the author of a number of prominent buildings around the world. His distinctive style was significantly influenced by Catalan architecture in the early stages of his work, which was defined primarily by the famous architect Antoni Gaudi. After graduating from the University of Architecture in Barcelona and the Geneva School in 1963, he brought together experts from several key areas (besides architects, designers, engineers, but also filmmakers, writers and philosophers) in the above-mentioned architectural office. In 1971, Bofill also established a branch in Paris in response to growing orders during the boom of modern architecture in France.
By: Ricardo Bofill - Corso II Karlin, Prague
The most important works of Bofill
One of Bofill's most important works is the Walden 7 block of flats in Sant Just Desvern near Barcelona. Inspired by BF Skinner's Walden Two novel, it features 446 apartments and 18 towers that create a vertical labyrinth and are connected by an inner courtyard. In France, he wrote his works Les Arcades du Lac and Le Viaduc in Versailles, Le Palais d'Abraxas, Le Théâtre and L'Arc in Marne-la-Vallee or Les Echelles du Baroque in XIV. district in Paris.
Bofill and his work significantly influenced the form of contemporary architecture based on classical geometric shapes. In the 1990s he was one of the first pioneers in the expansion of glass and steel as leading materials in the design of modern buildings. His signature as an experienced urban planner can be found in projects such as the Place de l'Europe in Luxembourg, New Castellana in Madrid and the Boston Central Artery.
The Summit of Architecture and Development has traditionally touched upon the building development itself of the country, which the Association for Architecture and Development is striving for. There will also be the results of an exclusive poll of not only the Prague coalition one year after the municipal elections. The summit will also present an up-to-date semi-annual review of "What has been done, what has failed and what needs to be done?" And a new semi-annual short film on the development of Prague and the Czech Republic.
Source / photo: www.retrend.cz / Association for Architecture and Development, zs