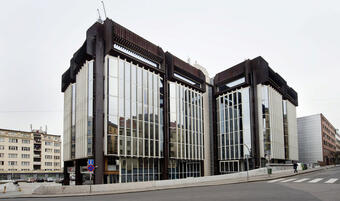 As reported by E15.cz in February, the Slovak developer HB Reavis, with the exception of its HubHub coworking center, decided to leave the Prague market.
There are three plots for sale. First of all, it is a plot on Vinohradská Street. It still has a set of Transgas buildings. His planned demolition aroused controversy. HB Reavis plans to send objects to the ground in late March and early April. There is also an older Mercuria office center in Holešovice. Also in this case, demolition is expected. The third sold land is in Radlice near the ČSOB headquarters.
"Demand is huge. It is possible that we will complete the sale by the summer holidays, "said Petr Herman, director of the domestic part of HB Reavis. He did not want to comment on the price for the land.
For example, one of the most active Prague developers, Penta, probes any acquisition. "It is likely that we will bid for one of the three locations in Prague," Penta spokesman Ivo Mravinac said. The group of billionaire Marek Dospiva and his partners in the metropolis is building residential and office projects.
The largest housing developer Central Group, real estate magnate Dušan Kunovský, also entered the game. "We have bid for two properties from HB Reavis's portfolio. The market is currently very cost-effective, but we are holding our bids pragmatically in real terms, "said Central Group spokeswoman Marcela Fialková.
Interest in plots aroused by the current real estate fever. In the office market, the demand for new office space exceeds supply. "At the same time, the offer of new projects and land for development is limited. From this point of view, HB Reavis projects are very interesting, "commented the commercial property specialist Lenka Šindelářová from BNP Paribas Real Estate.
HB Reavis of one of the richest Slovaks Ivan Chrenka is one of the most important European developers. In addition to Slovakia, the company is also active in Poland. He also builds in London.
(source: e15.cz)