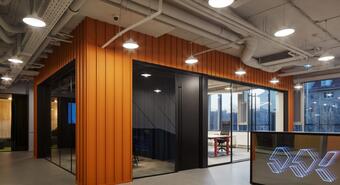 The task of designing a working environment for their team was entrusted to the Prague Studio Perspektiv . The assignment was formulated clearly - to create offices supporting corporate culture with exceptional meeting space.
Studio Perspektiv - WebSupport Bratislava - workplace
Motherboard
The strong visual style of the Websupport world and their communication via blogs, vlogs or podcasts is very easy to succumb to. Even the architects could not resist it and put it as a computer motherboard - the foundation of the digital world. They inserted individual functional parts into the neutral tuned share. The premises for the teams took over the colors of the works of Pavel Novák . Working with color scaling and neon reflections in endless mirrors has given offices a distinctive depth of comic picture in more places.
Studio Perspektiv - WebSupport Bratislava - workplace as a computer motherboard
Business / Casual
Even before crossing the door threshold you can see that a free and open company is located on the third floor. The view into the main meeting room and the comfortable wood-paneled niche belong to one of the two larger relaxation zones. Orientation in space is simple, the corridor intuitively leads visitors to the community space leading to the terrace. It became a popular office center from the first days even outside working hours. The "living room", which is regularly transformed into a lecture hall, provides an opportunity to look inside not only IT enthusiasts but also the public. A large bar table brings people closer, quickly becoming a popular place for breakfast and lunch.The materials used, such as spruce laths or rolled metal sheets without surface treatment, aim to suppress the perception of the formal business environment of the building. Reconstruction of the office was carried out with little intervention in the technological equipment of the previous tenant, the open ceiling has its own character.
Studio Perspektiv - WebSupport Bratislava - bar table
The aim of the architects in the project was to convey the atmosphere of well-being of the family house to which all employees were accustomed.
Products
glass partitions: Verti / www.verti.sk bespoke furniture: Spaceplan / www.spaceplan.sk floors: PROINTERIER / www.pro-interier.cz luminaires: Smartlight / www.smartlight.sk luminaires: refurbished Zumtobel conference tables: Master & Master / www.masterandmaster.eu graphic design by Pavel Novák wallpaper: Cole & Son
Source / photo: www.retrend.cz / www.linka.news/Jakub Skokan and Martin Tůma from BoysPlayNice