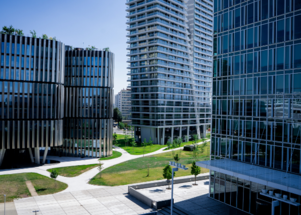 As summer approaches, the coronavirus pandemic is subsiding, hand in hand with the necessity of the majority of work from home. But the labour market and the way in which work has been carried out have undergone a number of changes over the past two years. These are now changing into more permanent principles, adapted to the long-term vision and needs of companies and their employees. CBRE, the world leader in commercial real estate services, has recently conducted a large-scale survey of nearly 200 companies in EMEA (Europe, Middle East and Africa), including the Czech Republic, which maps current attitudes toward different working model variants. The results show a clear trend in hybrid forms of work, where respondents consider at least 50% of the working week spent in the office to be the ideal situation.
Most companies expect to return to offices in some form
According to the survey, 68% of companies expect people to return to regular office work in the second half of the year, from which almost a quarter say the process is already underway. Naturally, however, there are significant sectoral differences: almost 80% of financial companies are aiming for the stable presence of their employees in the workplace by mid-year. By contrast, more than a third of technology and IT companies are allowing the process to go at its own pace without giving a precise timeframe.
"From the obtained data, we can see that employers are trying to gradually motivate their workers to return to the office. However, most of them (70%) do not insist on returning immediately and for the whole working time. A total of 35% of companies require partial attendance at the workplace and the same amount leaves the choice of the regime at the discretion of their employees. Only 6% of companies are requiring their employees to return to the office permanently," commented Simon Orr, Director Advisory & Transactions – Offices in CBRE.
Hybrid working is not just a fad. But finding a functional model can be complicated
A clear majority (72%) of companies say they are moving towards a "hybrid workplace" model where employees have a measure of choice within the framework of company guidance. This is appreciably higher than last year (when it was 55%). In more than half the cases of the companies preferring a hybrid model (56% to be precise), this is a system introduced at the initiative of the company management. Only 10% of those surveyed are sticking to a conservative approach, in which coming to the office is a priority.
"The situation seems clear at first glance. However, for many companies it is still a test of how such an office will operate. Although the hybrid model of work is not a new trend in principle, it has never been introduced and implemented as widely as nowadays. And each company is dealing with the modus operandi based on its needs. Over half of the respondents (56%) chose the path of formal policy and clearly defined their rules. Nevertheless, the rest (44%) leave the decision on how people will work to individual employees, or they are still waiting to see how their people will behave themselves (and based on that, they will decide on the rules). Therefore, the current settings of the working model may not be permanent for individual companies and may change over time," added Simon Orr.
Another issue employers are discussing is how the hybrid model should work in practice so that work from home vs. work from the office is properly and effectively balanced. How much autonomy should be left leave up to workers so that corporate identity and operational needs are taken into account. A total of 51% of companies consider it ideal to have an equal mix of office and remote-based work. A majority of time spent in the workplace is preferred by 38% of respondents, which is a significant decrease compared to last year (when it was 50%), but is still a significant proportion. Remaining in "home office" as the dominant form of work remains unpopular among respondents – only 12% of companies prefer it.
Post-pandemic offices: healthy and adapted to current requirements
Covid-19 did not just bring an increased tolerance to remote work into office life. It also changed people's overall attitude to work and the working environment. The respondents wish to place a greater emphasis on adaptability (45%), health and wellness (41%) and interior re-design or renovation (39%). More than a quarter of the respondents also stated that they were more cautious about concluding long-term lease contracts – a degree of flexibility is so more important than ever before for the companies themselves. On the other hand, a total of 18% of companies are considering relocating to higher-quality premises. The positive news is that, despite the difficult conditions during the pandemic and the current complicated economic and geopolitical situation, 41% of firms expect to expand and enlarge their premises in the coming years.
"Companies have begun to think more about the indoor environment, its functions and its layout, and they already include it in their strategy. The most significant increase was in the need to expand or modify the shared space for cooperation, which is considered to be of key importance for a total of 63% of respondents (compared to 36% last year). Half of the companies are also planning to rethink their current spatial standards, with the trend even more pronounced for large companies in both cases," commented Filip Muška, Workplace Strategies Lead in CBRE, adding:
"Companies want to continue to expand in order to provide their people a practical, healthy and modern workplace. A total of 36% of them are focussing on improving office equipment and services for employees. And 31% of companies are more than ever dealing with organising work places to provide people with more open space."
Flexi offices as a trend of the coming years
And what changes do companies expect in the future? A clear majority of them (89%) expect that in a two-year period, at least part of their portfolio across Europe will include serviced offices or co-working centres (flexi offices) instead of traditional offices. More than three quarters of companies are already operating in this way (77%), but these type of offices usually makes just a few percent of the total space (63%). However, a total of 45% of respondents are planning to get up to 25% by 2024.
"Among the parameters for the office units themselves and their internal environment, the flexibility of space (72%), which allows the spatial arrangement to be adjusted according to current needs, clearly dominated. The need for a separate space providing the necessary quiet and privacy for phone calls or online meetings (61%) is also at the top of the rankings. The demand for shared space (51%), air quality (50%) and overall sustainability (44%) will also be growing. Development is thus gradually directed toward offices that can be easily and quickly adapted while at the same time creating a pleasant, healthy environment that is friendly to nature," concluded Filip Muška.